Business: UK impact investments to boost development
Britain will help to foster a revolution in private investment into projects to improve the health, education and future chances of more than five million people across Africa and Asia.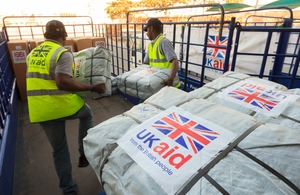 For the first time, UK aid will support social impact investments. These investments are specially designed to provide a benefit for the poorest whilst offering a financial return to investors.
The new project will ensure the poorest countries get the investment and support they need to boost vital services, kick-start economic growth, create jobs and give millions the opportunity to escape poverty.
International Development Secretary Justine Greening said:
"Investors are starting to wake up to the benefits of working in the poorest countries. We can help by removing some of the barriers to investing and by directing investment to where it can make a huge difference to the lives of poor people.
"Britain will use its first class development expertise in partnership with the Global Impact Investment Network and CDC to kick-start private investment and help the poorest on their path out of poverty."
British aid will provide financial capital and specialist advice to transform health and education services, local businesses, agriculture and basic utilities in countries like Ethiopia, Zambia, Nigeria, Pakistan and Kenya.
Depending on the success of the underlying investments, more than half of the Programme's costs could be returned to the taxpayer.
Under the new "Impact" programme, development experts from the Department for International Development and Britain's development finance organisation, CDC, along with industry experts from the Global Impact Investing Network will provide capital and advice to unlock substantial new investment.
Diana Noble, CEO of CDC said:
"We are happy to be working closely with DFID in managing its Impact Fund. The Fund will be invested in businesses in sub-Saharan Africa and South Asia that target the poorest parts of society either as consumers or producers of essential goods and services, or as employees.
"By providing our investment expertise, CDC will support DFID's goal of reaching millions of poor people through investments in enterprises with social impact. We'll do this while also drawing in sustainable private capital to invest alongside us."
Luther Ragin Jr., CEO of the Global Impact Investment Network said:
"The launch of the DFID Impact Programme is an important milestone for the growing impact investment industry, especially in its tremendous support for field-building work. The DFID Impact Programme is well positioned to catalyze effective impact investing markets in sub-Saharan Africa and South Asia, and it complements the GIIN's commitment to grow the field worldwide."
Impact investments have the potential to transform the lives of millions of the poorest, however many investments are restricted due to a lack of capital, skills and expertise.
The thirteen year project will make it easier for private investors with a willingness and passion to invest in projects that help the poorest to pull themselves out of poverty as well as deliver financial returns.
Britain's support will develop and grow the impact investment market in Sub Saharan Africa and South Asia by:
Establishing the DFID Impact Fund which will provide capital to kickstart promising Funds and attract new investors by sharing the risks of early stage investments. Managed by CDC, the Fund will plug the gap in funding.
Investments will also be backed by expert technical assistance to develop the businesses. The Fund has been structured so that a proportion of the investment will be returnable capital, with money returned to the Department if the project is successful.
Supporting the Global Impact Investing Network (GIIN), in partnership with USAID, Omidyar Network and Rockefeller Foundation to provide better market and performance information to potential investors about successful products and services which have helped poor people.
Developing industry-wide standard measurements for investments which measure financial return as well as development outcomes to make investment easier and transparent.
Providing expert investment training and business skills to more than 300 Investment Managers from poor countries to help develop and manage projects on the ground.
Published 7 December 2012