Press release
Business Secretary visits Emmerdale set to launch apprenticeship campaign
Vince Cable visited Leeds to celebrate the launch of the campaign calling on young people to 'Get In. Go Far' by choosing an apprenticeship.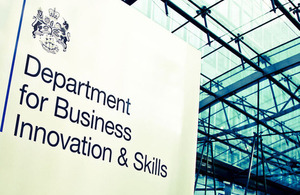 Vince Cable today (20 August 2014) visited companies across Leeds to celebrate the launch of the government's new campaign calling on young people to 'Get In. Go Far' by choosing an apprenticeship.
The campaign, which is being supported by top employers, coincides with the introduction of 40 new employer-designed apprenticeships in sectors including engineering, hospitality and the legal profession.
To celebrate the launch of the campaign, Business Secretary Vince Cable visited ITV studios in Leeds to meet apprentices gaining hands-on experience while working towards a nationally recognised qualification. There he was given a behind these scenes tour of the set of ITV's long running soap Emmerdale to see how apprentices bring one of the nations most watched shows to life.
Speaking at the set of Emmerdale, Vince Cable said:
For too long there has been a divide between university and vocational education which has been damaging for both employers and young people. Placing university degrees and apprenticeships on an equal footing will help to break down barriers and better meet the needs of business.

Since I became Secretary of State we have expanded apprenticeship numbers greatly, particularly higher apprenticeships. The reforms to apprenticeships enable employers to design and deliver apprenticeships that meet their needs, giving young people valuable qualifications and helping them to build successful careers from television production to advanced manufacturing.
Later in the day, Vince Cable moved on to visit Siemens Mechanical Drives and Arla Foods before rounding off the trip with a visit to translating company thebigword's HQ in Leeds.
At Siemens Mechanical Drives the Business Secretary was able to meet some of the apprentices working in the company's Leeds factory. Siemens currently employs 200 apprentices on its highly successful scheme and is in the process of creating at least 150 more places this year. The company has recently been working with Kodak, Grant Thornton and Leeds City Council to submit plans to the government for Leeds' first university technical college that will specialise in advanced manufacturing and engineering.
Vince Cable added:
Engineering is central to Britain's economic future and as the economy recovers the need for more skilled engineers across all the regions of the UK will continue to grow. It is therefore extremely welcome that such an important business hub as Leeds is playing a part.

This university technical college will not only provide young people with a structured and supported technical education, but with the support of companies such as Kodak, Siemens and Unilever it will play a pivotal role in furnishing this great city with its next generation of engineers.

This is good news for Leeds and great news for the wider economy.
It was then the turn of apprentices working at global dairy company and cooperative Arla Foods to show off their hard work and give the Business Secretary a tour of their dairy laboratories. Home to some of the UK's leading dairy brands, including Cravendale, Anchor and Lurpak, Arla Foods is one of a number of dairy companies who work with the National Skills Academy for Food and Drink to deliver the Eden Engineering Apprenticeship scheme. The scheme brings together employers from across the industry to provide an advanced apprenticeship for maintenance technicians and engineers, helping to produce world class staff for tomorrow's dairy industry.
The final stop on the tour was to the Leeds headquarters of thebigword, one of the world's top-20 translating and interpreting companies that has 11 global offices and nearly 500 employees working with more than 8,000 linguists worldwide. More than 120 apprentices have been through thebigword's programme since its launch in 2011 with almost 65% moving in to full-time jobs with the company. Last year, thebigword won 'Large Employer of the Year' in the Leeds City Council Apprenticeship Awards and was named a 'Top 100 Apprentice Employer' nationally.
The government's new apprenticeship campaign showcases the variety and quality on offer. The campaign, with the strapline 'Get In. Go Far' features real apprentices in varied sectors giving their own thoughts on their experiences. The apprentices, shown in the adverts taking selfies in their places of work, will appear on TV, posters, digital channels and in print media.
The new apprenticeships which have been launched are from a broad range of industries and include roles such as, a land-based service engineer, senior culinary chef, solicitor, journalist and a dental practise manager. Throughout the process over 200 employers and training providers were involved in designing the 40 new apprenticeship standards that have been approved.
This forms part of the apprenticeship trailblazer project which was launched in October 2013, the second phase of which was launched during National Apprenticeship Week in March 2014. It aims to ensure every apprentice in England is enrolled on a scheme which has been designed and approved by employers by 2017 to 2018.
Apprenticeships are already proving to be a successful and viable option as opposed to going to university. Since 2010, there have been over 1.8 million apprentices in England and this number continues to grow. Research has also shown that 86% of those who did an apprenticeship stayed in work afterwards, 67% with the same employer. A survey with employers also found that 96% of businesses which have taken on an apprentice believe their company has benefitted.
For more information on apprenticeships and the apprentices that are being featured in the campaign, visit www.apprenticeships.gov.uk
Notes for editors
Photographs of the Business Secretary's visit to Emmerdale will be available from 12.30pm.
A full list of the apprenticeship standards announced today is available.
Trailblazers are groups of leading large and small employers within a sector who work together to develop new apprenticeship standards. The first 8 trailblazers published their 11 standards in March 2014. The second 29 trailblazers have published 40 standards today, in addition to further standards in the Automotive, Digital and Energy and Utilities sector.
The standards produced by trailblazers will become the blueprint for apprenticeships in those occupations. We expect the first delivery of apprenticeships under the new standards to take place in the 2014 to 2015 academic year. From 2017 to 2018 all new apprenticeship starts will be on standards designed by employers.
For more information on trailblazers, including a full list of the employers involved, please see the trailblazer guidance. We will be launching a further phase of trailblazers in September 2014.
Published 20 August 2014