Press release
Business Secretary visit to Belfast
Vince Cable is visiting Belfast to highlight the contribution of the film and production industries to the economy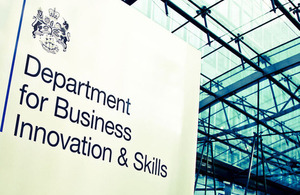 Business Secretary Vince Cable is visiting Belfast to highlight the contribution of the film and production industries to the economy and discuss opportunities and barriers to business growth and entrepreneurship.
During the visit he will:
visit Titanic Studios, a huge success story in the Northern Ireland film industry in attracting inward investment to its world class facilities - it is also the set location for television series Game of Thrones

meet with Northern Ireland banks to discuss access to finance support for small and medium sized businesses

take part in a roundtable discussion with business leaders and academics who provide funding and other support to early stage companies at Northern Ireland Science Park
Vince Cable will be taken on a tour of Titanic Studios, funded by Northern Ireland Screen, where he will see the world class film studio and set location for HBO television series Game of Thrones.
The Business Secretary will also meet with leading banking and business groups while in Belfast to explore opportunities for collaboration between government, the Northern Ireland Executive and the private sector.
Business Secretary Vince Cable said:
Northern Ireland has an impressive list of industries that can thrive here and have the potential to grow.

The creative industries are among them, and Northern Ireland Screen has demonstrated through the various funding programmes it offers how they can gain significant inward investment and provide an attractive business offer for popular productions like Game of Thrones.

These large scale international productions offer large employment opportunities. We remain committed to an environment where businesses of all sizes can succeed and barriers to growth, such as access to finance, are addressed.
Arlene Foster MLA, Minister of Enterprise, Trade and Investment and Simon Hamilton MLA, Minister for Finance and Personnel will join the round table access to finance discussions where they will consider what can be done to bridge the finance gap and raise awareness of support available for small and medium-sized business.
In the autumn government will launch a public campaign to celebrate GREAT British business success stories. Government wants to inspire other small businesses and point them towards the support that can help them grow. It will also launch a new strategy for how the whole of government will back them. This will set out a range of measures to continue helping budding entrepreneurs and existing businesses to succeed.
Notes to editors
The creative industries make a valuable cultural contribution to the UK, and are an important part of the UK's dynamic and diversified economy

Northern Ireland Screen offers various funding programmes across its economic and cultural and educational activities and has helped to solidify Northern Ireland's reputation as a global leading film location.

Northern Ireland Screen estimates that the Northern Ireland economy gains £6 for every £1 it invests in the Screen Fund and over the next 4 years total value of productions made will reach nearly £300 million and secure 1,150 jobs.

Tax relief has been vital in supporting the growth of creative industries. The government announced corporation tax reliefs for animation, high-end television and video games industries at last years Budget. Support for the television industry through UK TV relief will ensure that sustainable production of high-end programming continues across the UK.

At Budget 2012, the government announced it would introduce corporation tax reliefs for animation, high-end television and video games industries. High-end television relief came into effect from April 2013. Companies are eligible for a payable tax credit worth 25% of production costs.

The government's economic policy objective is to achieve 'strong, sustainable and balanced growth that is more evenly shared across the country and between industries'. It set 4 ambitions in the 'Plan for Growth', published at Budget 2011:

to create the most competitive tax system in the G20
to make the UK the best place in Europe to start, finance and grow a business
to encourage investment and exports as a route to a more balanced economy
to create a more educated workforce that is the most flexible in Europe
Work is underway across government to achieve these ambitions, including progress on more than 250 measures as part of the Growth Review. Developing an Industrial Strategy gives new impetus to this work by providing businesses, investors and the public with more clarity about the long-term direction in which the government wants the economy to travel.
Published 2 October 2013