World news story
Business Secretary Vince Cable visits Beijing to strengthen UK-China trade and investment partnership
This was published under the 2010 to 2015 Conservative and Liberal Democrat coalition government
Business Secretary Vince Cable visited Beijing today (28 May) to foster closer ties and push for more openness between the UK and China.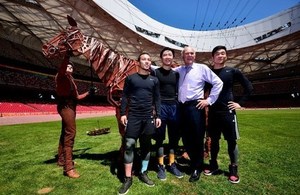 New policies and approaches agreed to drive long-term growth
Beijing is the Minister's third stop in a week-long programme in mainland China that also takes in Shenzhen, Guangzhou and Chongqing.
The UK's exports to China have grown faster than those of any other EU country in the past four years, while investment from China to the UK has reached billions of dollars.
Business Secretary Vince Cable said:
I am delighted to be back in Beijing and seeing firsthand how UK-China trade and investment is booming.

Whether it's in services, manufacturing, sustainable design and construction, or technology, British companies are proving that they are true global leaders and wealth creators.

This visit has confirmed, once again, that there is huge potential in our flourishing UK-China relationship.

I look forward to supporting British companies wanting to export to China and to welcoming even greater investment from China into the UK.
The Minister attended the opening of the China International Fair for Trade in Services (CIFTIS). In his speech, Vince Cable highlighted the mutual benefit of bolstering openness in the services markets and encouraged Chinese companies to access UK services as they rapidly globalise.
China's service industry overtook manufacturing to be the biggest contributor to GDP last year, and further opening up will present opportunities for the UK's world-leading financial and legal services.
Chinese automakers and telecom giant Huawei have already been attracted by the UK's innovation excellence and set up R&D centres in the UK. In 2013, the UK's service trade surplus with China totalled £2 billion.
During the visit, Vince Cable also attended the UK/China Joint Economic and Trade Committee (JETC) where he met with Gao Hucheng, China's Minister of Commerce, and discussed issues of mutual interest, including due diligence, promoting two-way investment, and IP protection.
In Beijing, the Minister witnessed two major deals clinched by British companies in China:
Health and Social Care: The UK's leading health training provider Careshield and the China Medical Doctors Association signed a Memorandum of Understanding that will lead to a new joint venture to provide training for China's general practitioners, nurses and specialist professionals, in particular in elderly care. Careshield is expected to provide services worth £10m over the next five years. It will also help other UK specialist training providers to tap into this fast-growing market.

Urban Planning: Vince Cable congratulated Atkins on its successes in winning a master planning contract in Shanghai's new Green Business District and in piloting its Eco-Low carbon planning methodology with Chinese policy makers. The master planning contract includes the architectural design for the IMX International Trade and Exhibition Centre centre and 70,000 m2 commercial development. On the methodology project, Atkins is working with the Chinese Ministry of Housing and Urban-Rural Development to deliver a pilot project on eco-friendly and low carbon urban planning.
The Minister also highlighted another side of UK creativity, attending a skills exchange session featuring War Horse at Beijing's iconic Bird's Nest Stadium. During the session, UK puppeteers trained their Chinese counterparts in how to operate the life-sized horse puppet and star of the London stage. The exchange follows an agreement between the National Theatre of Great Britain and the National Theatre of China which will see a Chinese language production of War Horse on the Beijing stage in autumn 2015 and then a tour across China, beginning in Shanghai. The partnership will see an exchange of skills and expertise between the two theatres in areas including technical production, marketing, fundraising and education, as well as the possibility of creative collaboration on future productions.