Business Secretary suspends 49 export licences to Egypt
Business Secretary Vince Cable today announced he has suspended 49 export licences for Egypt.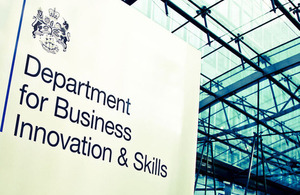 On 21 August 2013, in response to the increasing levels of violence in Egypt, the member states of the European Union agreed to suspend all export licensing for equipment which might be used for internal repression. Following advice from the Foreign and Commonwealth Office, the Department for Business, Innovation and Skills has suspended 49 extant licences.
This suspension applies to licences for the Egyptian Army, Air Force and internal security forces or Ministry of the Interior. It applies to applications for new licences as well as extant licences and will continue until further notice.
Business Secretary Vince Cable said:
The UK position is clear: we will not grant export licences where there is a clear risk that goods might be used for internal repression. The government takes its export responsibilities very seriously and operates one of the most rigorous arms export control regimes in the world.

We have already taken action to restrict exports to Egypt. As a result of the developing situation in Egypt, we have agreed with EU partners in this instance to go further and suspend all export licences for goods which might be used for internal repression. By acting together, we want to send a clear signal that we condemn all violence in Egypt.
This suspension will be kept under review until such time as conditions in Egypt indicate that it is appropriate to lift these restrictions.
In July 2013, five licences were revoked to Egypt after the government assessed that they were inconsistent with internationally recognised criteria used to assess export licences - specifically concerns about the potential for exports to be used for internal repression. The licences were for small arms/firearms components, armoured vehicle components and communications equipment.
The 49 licences now suspended cover a wide range of equipment, including spares for helicopters and aircraft, specialist software and communications equipment.
Notes for editors
1.The government's economic policy objective is to achieve 'strong, sustainable and balanced growth that is more evenly shared across the country and between industries'. It set four ambitions in the 'Plan for Growth', published at Budget 2011:
to create the most competitive tax system in the G20
to make the UK the best place in Europe to start, finance and grow a business
to encourage investment and exports as a route to a more balanced economy
to create a more educated workforce that is the most flexible in Europe.
Work is underway across government to achieve these ambitions, including progress on more than 250 measures as part of the Growth Review. Developing an Industrial Strategy gives new impetus to this work by providing businesses, investors and the public with more clarity about the long-term direction in which the government wants the economy to travel.
Published 28 August 2013