Business Secretary: More must be done to ensure BME workers get more job opportunities
Business Secretary Sajid Javid has said that businesses must do more to help BME workers access the labour market.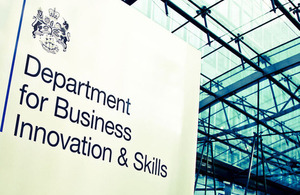 Businesses must do more to help BME workers access the labour market and progress their careers, Business Secretary Sajid Javid said yesterday (8 March 2016) at the first meeting of a new cross-Whitehall Ministerial taskforce when he called on them to engage with Baroness McGregor-Smith's review into access to the labour market.
Ministers from across government met to discuss the barriers to progress and agree what more could be done to deliver the PM's BME 2020 vision, which set out a series of targets.
The meeting came as Department for Work and Pensions (DWP) released a breakdown of the current scale of the problem faced by those from BME backgrounds when looking for work. According to latest ONS statistics, the annual BME employment rate was 62.7%, almost 13 percentage points lower than the White employment rate of 75.4%.
Alongside this, the employment rate for people of Pakistani or Bangladeshi ethnic origin was 55% around 20 percentage points lower than the employment rate for people from white ethnic groups – while it stood at 63.9% for people of Black ethnic origin. DWP are already looking to tackle BME unemployment by working with Jobcentres to identify and share best practice in working with BME groups.
Baroness Ruby McGregor-Smith's review, the terms of reference for which were published yesterday, specifically focuses on identifying and tackling the obstacles which prevent these groups from succeeding.
Business Secretary Sajid Javid said:
A good deal of work has already been done across government to improve opportunities for people from BME backgrounds. But while we have seen progress in many areas, these troubling figures highlight just how difficult it can be to find a job if you're from a minority background.

This is why I am determined to ensure this new Ministerial Taskforce will drive positive change to support BME workers to find the opportunities they need to fulfil their potential.
According to Business in the Community research, 1 in 10 employed people come from a BME background, yet only 1 in 16 of top management positions and 1 in 13 management positions were held from people from these groups.
This is despite independent research undertaken by McKinsey showing that companies with the highest rates of ethnic diversity in senior management were 35% more likely to outperform their industry counterparts.
Employment Minister Priti Patel, said:
The UK employment rate for BME groups is currently the highest since records began 15 years ago. But we know there is more to do which is why this government is committed to increasing the overall BME employment level and apprenticeship take-up by 20% by 2020.

This is a challenge that government, business and communities must meet to ensure that every part of Britain can benefit from our growing economy.
The terms of reference for Baroness McGregor-Smith's review, which will specifically look to address these issues, will look at:
the imperative for change: the impact on the UK economy as a whole of having more BME people represented at every level of the workforce

identifying the obstacles: the obstacles BME people face and whether these differ across groups and at different stages of an individual's career

assessing the impacts: the impact of these obstacles on both the individual and the labour market as a whole

gathering the data: consider what data exists, how businesses currently use it and whether more can be done to use this data in developing successful interventions

highlighting what works: collect examples of best practice from across the UK and look to share the key lessons more broadly
Baroness McGregor-Smith said:
I am delighted to be leading this review. It has never been more important to fully capitalise on the skills and talents of every individual in the workplace, regardless of their background.

We need to remove the barriers that for so long have restricted BME talent from reaching the most senior levels in business. These actions will deliver long-term economic benefits for the UK.
Notes to editors:
The meeting is part of the government's ambitious BME 2020 plan and is aimed at improving labour market outcomes for those from BME backgrounds. Ministers from across government have been charged with: * increasing the proportion of apprenticeships taken up by young people from BME backgrounds by 20% * increasing the number of BME students going to university by 20% * ensuring that 20,000 start-up loans are awarded to BME applicants by 2020 * increasing BME employment by 20% by 2020 * increasing the diversity of the armed forces * increasing the diversity of police recruitment
Latest ONS quarterly figures are available at Labour market status by ethnic group: A09. Figures quoted are 4-quarter averages of the latest ONS quarterly statistics from October to December 2015. The latest figure is the highest 4-quarter average on a comparable basis since the current series began in 2001. Pre-2001 data is not comparable.
Membership
The Rt Hon Sajid Javid MP, Secretary of State for Business, Innovation and Skills (Chair)
Lord Bridges of Headley, Parliamentary Secretary for the Cabinet Office
Baroness Williams of Trafford, Parliamentary Under Secretary of State for Communities and Local Government
Penny Mordaunt MP, Minister of State for the Armed Forces
The Rt Hon Nicky Morgan MP, Secretary of State for Education and Minister for Women and Equalities
The Rt Hon Mike Penning MP, Minister for Policing, Fire and Criminal Justice and Victims
The Rt Hon Priti Patel MP, Minister of State for Employment
The Rt Hon Anna Soubry MP, Minister for Small Business, Industry and Enterprise
Jo Johnson MP, Minister of State for Universities and Science
Nick Boles MP, Minister of State for Skills
Lord Prior of Brampton, Minister for Small Business, Industry and Enterprise, Parliamentary Under Secretary of State for NHS Productivity
Published 9 March 2016