Press release
Business Secretary considers evidence for tougher regulation of arms exports
A call for evidence about establishing a new register of arms brokers is published today (17 April 2014) by Vince Cable.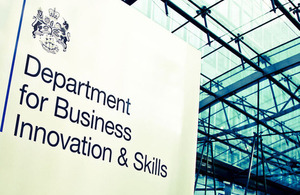 The document seeks views on whether there is a need for tougher regulation of arms exports.
The UK aims to operate one of the most rigorous and transparent arms export control systems in the world. British companies must obtain a government licence before exporting any military goods.
A register of arms brokers would be an additional, pre-licensing requirement. Under the proposals set out today, all brokers would have to be registered before they could apply for an export licence.
The Business Secretary made a commitment in December 2013 to consider a register of arms brokers in response to a long-standing request from the Committees on Arms Export Controls (CAEC).
Business Secretary Vince Cable said:
Government has a responsibility to ensure military exports are robustly controlled. The UK already has one of the toughest export control systems in the world. But it is right to consider whether it can be strengthened yet further as part of our aim to make Britain one of the most open and trusted places to do business.

So today we are launching a call for evidence to take a fresh look at the case for and against a register of arms brokers. Introducing a public register could help increase both transparency and accountability, so I am keen to hear views on all sides of the argument.
Arms brokers arrange or facilitate the movement of military goods between countries. A public register would include the names of all those licensed to carry out brokering activities. It could also allow for an assessment of suitability and possible requirements to attend training courses.
There are approximately 450 trade control licence holders registered on the government's licensing database.
If the government decides to bring forward formal plans to strengthen the regulation of arms exports, there will be further consultations on the detail of those proposals.
The call for evidence will close at the end of May 2014 and the government will publish its response later in the year (2014).
Under the current UK export control systems, each licence application is fully assessed against stringent internationally recognised criteria taking into account all relevant information available at the time.
A licence would not be granted if it would breach any of the criteria. However it must be recognised export controls do not, and should not, place unnecessary burdens on legitimate international trade.
Notes to editors:
The consultation can be found at: Call for evidence on pre-licensing register of arms brokers.

The call for evidence is aimed at all those with an interest in arms brokering, including brokers themselves, defence manufacturers and contractors, businesses providing services such as insurance or transport and those who campaign on this issue.

Arms brokering can be loosely defined as arranging or facilitating the supply of military goods between overseas countries. An arms broker is therefore a person or entity who conducts those activities. There are a range of activities that might be considered to be brokering, depending on the precise circumstances of the transaction, such as buying and selling goods on behalf of others, the supply chain activities of multinational defence firms, and the provision of insurance or transport services for the movement of military goods.

The government's economic policy objective is to achieve 'strong, sustainable and balanced growth that is more evenly shared across the country and between industries'. It set 4 ambitions in the 'Plan for Growth':
to create the most competitive tax system in the G20
to make the UK the best place in Europe to start, finance and grow a business
to encourage investment and exports as a route to a more balanced economy
to create a more educated workforce that is the most flexible in Europe
Work is underway across government to achieve these ambitions, including progress on more than 250 measures as part of the Growth Review. Developing an Industrial Strategy gives new impetus to this work by providing businesses, investors and the public with more clarity about the long-term direction in which the government wants the economy to travel.
Published 17 April 2014