News story
Business productivity portal: apply for innovation funding
Organisations are invited to apply for a share of £500,000 to develop solutions that provide information on improving business productivity.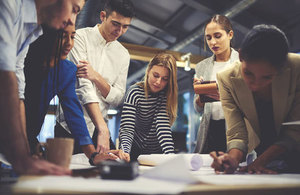 Innovate UK is to invest up to £500,000 on developing solutions that help businesses access information on how they can improve productivity.
Businesses currently don't have free access to information on the range of improvements available. These solutions will help them find new opportunities to improve productivity levels where they work. They will support companies at all levels – from business leaders and management to employees.
Funding is available for feasibility studies on one or more of the following:
technical solution
commercialisation plan for taking the solution into the market
possible commercial models
Proposed solutions should:
enable businesses to confidently simulate the benefits of these opportunities in a safe environment
provide businesses with trustworthy information on the best opportunities
provide users with a strong incentive to act
help to de-risk the business case for adopting improvements
be free-to-use
adopt a commercial model that is fair to the suppliers of business productivity improvements
Innovate UK is running this competition with the Productivity Leadership Group. This is phase 1 of a 2-phase Small Business Research Initiative (SBRI) competition.
Competition information
this competition opens on Monday 24 July 2017
the registration deadline is midday on Wednesday 27 September 2017
the application deadline is midday on Wednesday 4 October 2017
there will be a briefing webinar for potential applicants on 3 August 2017
SBRI is open to any type or size of organisation
successful projects will attract 100% funded development contracts
you can work alone or with others such as businesses, research base and third sector
we expect projects to last up to 4 months and to finish by Friday 30 March 2018
projects can range in size up to a total cost of £110,000 (including VAT)
Published 21 July 2017