World news story
Business mission in Kenya to seek opportunities with development partners
UKTI and DFID-Kenya co-host an aid-funded business trade mission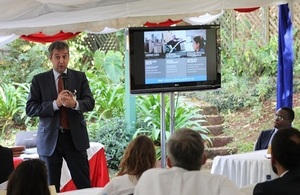 The UK Trade and Investment section and the Department for International Development (DFID-Kenya) co-hosted an Aid Funded Business Trade Mission on 6th and 7th of October. The Trade Mission, consisting of 20 companies, met with UN and donor agencies and discussed ways of working together including identifying projects of interest and drew insights on procurement frameworks. The UK companies represented various sectors including energy, property and finance, communications solutions and education.
Speaking during the visit, the UKTI Aid Funded Business Service Project Director, Mr Nigel Peters said:
"I am delighted to be leading this mission of UK companies with experience in providing goods and services for the development and humanitarian aid agencies working in Kenya and the wider East African region. UK companies have for many years helped design long term development programmes in a wide range of sectors from agri-business through to water and sanitation, and at the same time we have many companies who specialise in innovative products that help the victims of humanitarian disasters. Many of these companies now work through local partners in Kenya."
Speaking during the business session Head of DFID Kenya, Lisa Phillips said:
"The UK government recognises that the private sector is the engine of growth in developing countries. Successful businesses drive growth, create jobs and pay taxes that finance services and investment which is critical to achieving economic development that is accessible to the poor and resilient to future shocks."
She also highlighted the importance of UK businesses acting as champions for development in Kenya and urged the businesses to contribute to the development of an inclusive Kenya economy. With the UK's strong track record of pioneering responsible business practices DFID, in particular, seeks to increase engagement with UK businesses so that they invest more, and responsibly, in poor countries as part of their core business strategies.
The UK companies also held a Business to Business session with DFID implementing partners among them Adam Smith International, Kenya Markets Trust, the Finance Innovation and Climate Fund-Kenya where they openly shared information on the services they provide and sought opportunities of partnership.
The role of the Aid-Funded Business Service is to raise awareness of the opportunities available through doing business with the various International Aid/Donor Agencies by providing general advice, publishing guides to each organisation and running a programme of training seminars throughout the United Kingdom.
Photos of the event here
Published 13 October 2014