Press release
Business mentors are ready and waiting to support SMEs
The largest ever recruitment of volunteer business mentors supporting businesses looking to start, grow and create jobs hits 15,000 target.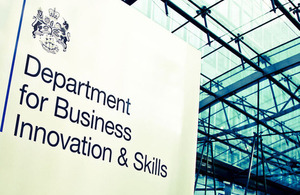 The largest ever recruitment of volunteer business mentors to help support businesses looking to start, grow and create jobs has now hit its target of 15,000.
The mentors are made up from the small business community and can be accessed through mentorsme.co.uk, the national mentoring portal owned and operated by the British Bankers' Association (BBA). The 15,000 trained recruits joined 12,000 existing business mentors from across 115 mentoring organisations available through the portal.
The volunteer mentors have been recruited and trained over the past 16 months as part of the £1.9 million government-funded Get Mentoring project, delivered by the Small Firms Enterprise Development Initiative (SFEDI). Their aim is to harness the experience of business people to train them as mentors and share their expertise with new and growing businesses increasing their success rate.
Business minister Michael Fallon said:
Small businesses are vital to our economy and we are determined to help them get on and succeed. We have invested in mentoring because we know that good mentors can provide the practical advice and support that an entrepreneur needs to take their business idea to the next level. They have been there and done it and can pass that experience on. I want to encourage people to come forward and take advantage of the mentoring network.
Ruth Lowbridge, Executive Chair of SFEDI, said:
We are thrilled to have brought the mentor training and resources to so many volunteer mentors and are extremely grateful to our network of strategic and delivery partners who have provided tremendous help through engagement with their members and their business and personal networks.
Over the past year SFEDI has trained volunteers in every corner of the UK who have been hugely inspiring to support new and growing business and to build on their skills as a mentor. These are dedicated individuals who have generously agreed to share their hard earned business experiences with others in order to support their success thus contributing to the economic activity and wealth of the UK. With their continuing enthusiasm and support, we look forward to seeing many more mentoring relationships develop in the coming months.
To ensure the volunteers' new skills are put to use, over the next three months SFEDI is delivering a new programme of 'Meet a Mentor' events to connect small businesses looking for help with the volunteer business mentors. The first event takes place at the Department for Business, Innovation and Skills on 15 February and will involve over 100 small businesses and entrepreneurs.
Twists Pasta Bar in Huddersfield, is a growing fast food business that has benefited from the experience of a mentor after attending a 'Meet a Mentor' event last year.
Co-founder Adam Thompson said:
I would recommend all growing businesses to seek the support of a mentor, especially because they have 'been there and done that'. When we met Janet, it was fascinating to hear about her background in running her own businesses and what expertise she could offer a growing business like ours. We have been able to expand our contact list, whilst also learning from her expertise and experience, as well as her pitfalls and successes.
Businesswoman Janet Marshall who has been mentoring business owners Adam and Jeffrey in recent months said:
I've been very lucky as a mentor as Adam and Jeffrey are so motivated and capable, I admire them for that. They are also ready to listen and discuss things and are good at asking for help when they need it. Being a mentor has allowed me to step back and remember what it's like just starting out and being involved in a new and growing business has been very exciting and rewarding.
Notes to editors:
Get Mentoring is a public/private-sector partnership, grant assisted by BIS and Government Equalities Office and delivered by The Small Firms Development Initiative Limited (SFEDI). SFEDI is the UK expert and standards setting body for business enterprise and enterprise support. http://www.sfedi.co.uk. They have worked with over 140 business and trade bodies to deliver Get Mentoring. Mentors trained through the Get Mentoring scheme are deployed through www.mentorsme.co.uk, via the Institute of Enterprise and Entrepreneurs (IOEE).
For more information on the 'Meet A Mentor' events go to: http://getmentoringuk.eventbrite.co.uk/
Mentorsme.co.uk, the UK's national mentoring portal is designed, owned and operated by the British Bankers Association. It has more than doubled in size since its launch in July 2011 and now provides a single point of access to 115 quality assured mentoring organizations across the country, for businesses looking for mentoring services.
The national mentoring network, accessible through mentorsme.co.uk, comprises 27,000 mentors. This is made up of 15,000 Get Mentoring volunteers accessible via IOEE on the portal and 12,000 mentors through the 115 mentoring organisations listed on the site. The 12,000 includes 1,000 volunteer bank mentors recruited and trained through the BBA's scheme who are deployed in mentoring organisations across the country.
The SFEDI Group of companies specialise in enterprise skills and know-how for the UK's business sector. The group includes SFEDI Solutions, the standards setting body for Business Enterprise and Business Support and a thought leader in enterprise research, SFEDI Awards which brings enterprise learning to people and businesses through its UK network of training centres, and the IOEE, the UK's first learning institute for enterprising people.
Mentoring is a vital part of the business support landscape because it is often the first step small business owners take towards making use of external advice as a tool to support growth. In a short video, Penny Power highly successful entrepreneur and mentor, along with her mentees talk about the real benefits mentoring has brought to their businesses. View on the Business in You website http://businessinyou.bis.gov.uk/advice/mentoring/
Evidence shows that businesses which use external advice are more ambitious, more likely to grow and more successful.
Mentoring Infographic available here - http://getmentoring.org/get-mentoring-infographic/
The government's economic policy objective is to achieve 'strong, sustainable and balanced growth that is more evenly shared across the country and between industries'. It set four ambitions in the 'Plan for Growth' (PDF 1.7MB), published at Budget 2011:

To create the most competitive tax system in the G20
To make the UK the best place in Europe to start, finance and grow a business
To encourage investment and exports as a route to a more balanced economy
To create a more educated workforce that is the most flexible in Europe.

Work is underway across government to achieve these ambitions, including progress on more than 250 measures as part of the Growth Review. Developing an Industrial Strategy gives new impetus to this work by providing businesses, investors and the public with more clarity about the long-term direction in which the government wants the economy to travel.
Published 30 January 2013