Press release
Business falls foul of all 3 producer responsibility regimes
Babz Media Limited, an online company, was ordered to pay £45,500 in fines, and £8,724.98 in costs for breach of environmental legislation.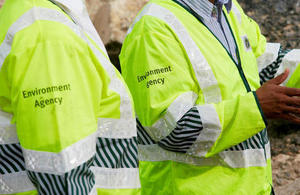 Babz Media Limited, an online trading company operating from Bilton Road, Perivale, Middlesex, has been fined for non-compliance with environmental legislation across 3 separate material types: packaging materials, batteries and electrical equipment.
Known as producer responsibility, the legislation is designed to reduce the amount of packaging used, promote recycling and avoid waste ending up in landfill.
The company pleaded guilty on 6 August 2015 at Ealing Magistrates' Court to failing to register with the Environment Agency and a producer recycling scheme for packaging waste, waste batteries and electrical waste. Babz Media also pleaded guilty to avoiding the cost of financing the collection and recycling of the 3 waste streams between 2011 and 2013.
This is the first time that a business has been prosecuted for breaching all 3 regimes. They are also the first business to be prosecuted for failing to comply with its batteries obligations in England. The company was ordered to pay a total of £45,500 in fines, and £8,724.98 to the Environment Agency for the avoided registration fees and prosecution costs.
Circumstances of the case
With a turnover of £19 million in 2014, its website states that they are one of the leading suppliers of electrical cables, blank media and batteries through online marketplaces. They stock over 2,000 household brands and supply them in bulk to trade. The court heard that Babz Media Ltd imported electrical goods and batteries from Europe for sale in the UK. Inquiries by the Environment Agency established that the company should have complied with all 3 waste regulations from 2011 but had failed to do so until 2014.
The Company had imported 163.7 tonnes of batteries for sale between 2011 and 2013, 188 tonnes of electrical equipment in 2012 and 2013 and were obligated to recycle 76 tonnes of packaging waste in 2013.
Hannah Wooldridge, Senior Environment Agency Officer said:
This case shows that businesses must consider all aspects of regulation, and that environmental aspects are an important part of due diligence at all times. These regulations can affect all types of business no matter the method of selling. Online trading does not excuse companies from being compliant with the law.

This company didn't meet their legal obligations through ignorance after starting trading, they remained non-compliant for over 3 years and that impacted others in the market due to the commercial advantage they had.

The regulations are there to increase recycling of valuable resources, support the recycling industry and reduce the use of packaging, WEEE and batteries in the first place. We will take robust action where breaches occur – online or otherwise. This is a substantial fine reflecting the seriousness of the case and Babz are the first producer to be prosecuted in England across all 3 producer responsibility regimes.
In sentencing Babz Media, the court noted the early guilty plea and its co-operation with the Environment Agency, but said that it had been careless in not being aware of its obligations to register and finance the collection and recycling of waste it was responsible for.
All media enquiries: 03708 506 506. Please ask for the Herts and North London Communications team or duty press officer.
Follow us on Twitter @EnvAgencySE
Published 12 August 2015