Business: Britain to kick start banking for poorest
The UK Government will unlock the potential of entrepreneurs in the poorest countries and create almost one million new jobs.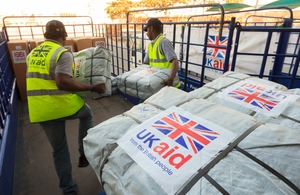 Speaking at the World Bank in Washington DC, Secretary of State for International Development Andrew Mitchell will set out how Britain and the International Finance Corporation (IFC) will help banks provide much-needed capital to promising businesses.
A new global small and medium sized enterprise (SME) finance facility will be created to help nearly a quarter of a million businesses access capital over the next seven years, with at least a quarter of these loans for organisations headed by women.
Working with commercial banks, the fund will focus assistance on some of the poorest and most fragile countries in Africa and South Asia, such as South Sudan, Malawi, Liberia, Uganda, Mozambique, Sierra Leone, Bangladesh and Nepal.
Secretary of State for International Development, Andrew Mitchell, said:
Entrepreneurs don't want handouts. They want opportunities to help them pull themselves out of poverty. They need investment to build their businesses and create stable jobs. Using expert banking knowledge and new technology we will be able to kick start the engine of growth.

We have no chance of defeating global poverty unless we unblock commercial lending and allow entrepreneurs the chance to thrive in some of the most neglected parts of the world.
Lars Thunell, IFC Executive Vice President and CEO, said:
Small and medium enterprises are a vital engine of job creation in developing countries. Yet they face a huge financing gap - especially in Africa, where SMEs need three times more funding than is currently available. This facility will help narrow the gap, creating opportunity for entrepreneurs who need it most.
Many banks are often unable to fully assess the risks of investing, greatly overestimating the cost of a loan. For example, fees for lending were almost three times as high in developing countries compared to rich countries.
The new facility will share innovative technology and expert banking knowledge to strengthen the skills, systems and processes. This will include:
Unlocking the supply capital from banks in poor countries to free-up an additional £5 billion of private sector lending to small and medium sized enterprises. A small start-up pool of capital will help 35 private banks and institutions to spread the risk of investing and reduce their transaction costs.
Fast-financing will see direct lending to SMEs in poor countries.
Bring in innovative technology to speed up lending and reduce risk. State of the art psychometric credit scoring tests which help banks predict the risk and potential of business ideas and borrowers.
Set up modern banking techniques to reduce the risk of lending. This will bring down the cost of lending to promising small businesses.
SMEs already employ two thirds of the total permanent work force in developing countries, but less than one third of all small businesses in Pakistan, Bangladesh and DRC have any deposit or credit account with banks. Being able to access finance will enable businesses to generate more jobs and help create a more prosperous and peaceful future.
Published 22 April 2012