Press release
Business boost for Midlands Engine in first ever trade mission
Almost 60 delegates from across the Midlands took part in a government trade mission to China last week.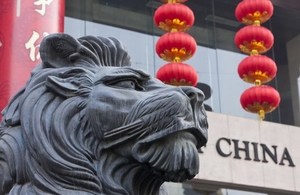 In the first ever Midlands Engine trade mission to China, the Department for International Trade (DIT) and the Department for Communities and Local Government (DCLG) have been helping to put the region on the world map, bringing 36 organisations to China.
Delegates from a wide range of sectors and representatives from local government met with their Chinese counterparts from 31 October to 4 November, to develop trade, investment, higher education and regional relationships.
The Midlands is the only part of the UK where trade with China more than doubled in 2015, compared to 2010. The recent trade mission to China provided delegates the platform to build on the Midlands thriving economy, currently worth an impressive £222 billion.
The delegation visited cities in eastern China such as Changzou and Anqing, and took part in the second ever UK-China Regional Leaders Summit to promote trade and investment. It also participated in the fourth China-British Business Council (CBBC) China Outbound Conference; the largest conference in China that focuses on promoting UK inward investment projects, to build stronger working relationships.
International Trade Minister Mark Garnier said:
Across the world the Department for International Trade is promoting the UK as a place to do business and trade with. This mission brought the Midlands Engine to one of the world's biggest markets.

Government has been helping organisations build their relationship with China and boost their global brand. Over 5 years, exports of goods from the Midlands to China have more than doubled to £4.5 billion.

A huge range of businesses - from regional brewers Hobsons Brewery to local law firm Geldards LLP - will now take advantage of our strengthened economic ties and increasing export and investment opportunities following this trade mission.
Managing director of Nottingham-based walking tours company Brackenbury's Britain, Richard Brackenbury said:
This trade mission was a fantastic experience demonstrating how critical it is we're perceived to be an open economy. But most importantly, DIT and CBBC had worked incredibly hard to make effective relevant introductions.

One contact has already been in touch in the 3 days since my return wanting to take matters further in bringing high end Chinese tourists to the region. If that succeeds, that's hard foreign cash into the Midlands economy.
The delegation to China included representatives from Smith of Derby, Brackenbury's Britain and Lovatt Consultancy.
In an effort to boost jobs and add billions to the Midlands economy, visit programmes took place in Shanghai, Ningbo, Hefei, Anqing and Changzou in eastern China.
The links for trade and investment with China are growing not just in the Midlands but across the UK. Today, the Chancellor, Phillip Hammond and International Trade Secretary Liam Fox announced a portfolio of projects offering more than £5 billion investment opportunities in the Northern Powerhouse to Chinese investors.
This comes as part of the eighth UK-China Economic and Financial Dialogue, which involves discussions on strengthening our economic partnerships on trade, financial services, infrastructure and energy.
Notes to editor
Between 2010 and 2015, Midlands trade with China increased by £2.4 billion (118.4%) compared to the national increase of £4.2 billion (57.7%).
DIT is responsible for promoting the UK as a whole to potential inward investors and overseeing the national foreign direct investment (FDI) promotional framework.
DCLG leads work across government on the Midlands Engine, with Secretary of State Sajid Javid as ministerial champion.
The government has committed to:
establishing a new foreign investment hub based in Birmingham to help deliver more high value investments into the Midlands Engine
a £250 million Midlands Engine investment fund to provide investment through access to finance for small and medium-sized enterprises
the development of a £60 million energy research accelerator at the University of Nottingham, as well as £2.6 million investment in the Technology Entrepreneurship Centre
£300 million investment in a High Value Manufacturing Catapult and £45 million for a new Energy Systems Catapult in Birmingham, to attract the most innovative businesses to the region.
£14 million for a new creative innovation centre at Digbeth, the Birmingham STEAMhouse
multi-million pound investment to ensure the Midlands makes the most of the new high speed 2 rail links, at Birmingham and at Toton in the East Midlands
Published 10 November 2016