News story
Business as usual in Afghanistan for Prince William's former HCR squadron
As Prince William gets ready for his wedding, members of his former squadron in the Household Cavalry Regiment have been out on patrol in Afghanistan.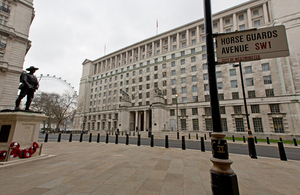 D Squadron has been based in Helmand province since last September, maintaining security in and around the town of Gereshk alongside soldiers from the Afghan National Army (ANA).
As part of their security presence, members of 2 Troop recently carried out a routine vehicle patrol in their Jackals along Highway One before dismounting and meeting members of the Afghan community at the construction site for a new bazaar at nearby Noorzai.
D Squadron has been conducting patrols through the site which is overlooked by an ANA checkpoint - to ensure the security of workers as they complete the project.
2 Troop also comducted a foot patrol through the surrounding fields, providing further reassurance to the Afghan people living in the area.
Major Rupert Lewis, Officer Commanding D Squadron Household Cavalry Regiment, said:
Highway One is a major route that runs through central Helmand and as such it's a very important route to keep open. A lot of trade passes through along the route, a lot of ISAF convoys, ANSF [Afghan National Security Forces] convoys, and therefore it's a very key route to the progress of this part of Afghanistan.
The partnership of British and Afghan personnel is considered vital to the success of the mission as is the knowledge of local soldiers.
Maj Lewis said:
Without them we would find the job much more difficult. They understand the cultural sensitivities of the locals out on the ground. They detect the change that we might not detect in the situation out on the ground.
It's their country and they will be responsible for taking the lead in time and therefore the development of the Afghan Security Forces, whether it be the Afghan National Army or the Police, in my mind, is absolutely fundamental in everything we do.
I think most of the guys have really engaged with working with the Afghan National Army. In this camp, we very much live together and share a lot of the amenities in the camp, however there will always be difficulties. We are two very different cultures, but on the whole we've gotten on very well and at the end of the day we all have the same aim and we're working towards that.
With D Squadron nearing the end of their deployment in Afghanistan, Maj Lewis is quietly confident that their time there has been worthwhile:
I hope to say that the tour has been pretty successful for D Squadron," he said.
We've still got a little bit of time left, so I wouldn't want to jeopardise that, but in terms of what we're achieved so far, I think it's been a good tour. The boys have worked extremely hard, they've shown their professionalism at all times and we can be proud of what we've achieved to date.
Published 15 April 2011