News story
Business and government join forces to boost apprenticeships
Business leaders and Government are joining forces in a drive to urge employers to take on apprentices.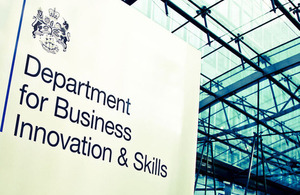 Skills Minister John Hayes, entrepreneur Peter Jones, the Federation of Small Businesses, the British Chambers of Commerce, and businesses including the BBC, BT and BAE Systems are highlighting the benefits of apprenticeships by putting their names to a letter of support.
They are also launching a direct mail and radio marketing campaign aimed at employers. The campaign showcases the value of apprenticeships in the current economic climate, and shows how they can supply the skilled, talented workforce of the future.
John Hayes said:
"This Government believes apprenticeships are a key component to up-skilling the workforce and are one of the best forms of work-based learning. We proved this commitment in our recent announcement that we will provide an extra 75,000 apprenticeship places a year by 2014-15.
"We will be working closely with employers to help them play their part in improving the employment prospects of young people and creating the highly skilled workforce this country needs."
###
A fresh approach to growth
A survey carried out recently by the National Apprenticeship Service shows companies who take on apprentices benefit significantly.
Of the employers surveyed, 82 per cent agreed apprenticeships give them a good return on investment, and 81 per cent agreed apprenticeships supply the practical skills and qualifications they need for the future. What's more, 83 per cent said employing apprentices creates a better work environment.
Investment company Skandia UK is one business with a winning apprenticeship programme at the heart of its approach to workforce development.
"The return on investment in apprenticeships has been staggering," said Skandia's Judith Pilcher. "Apprentices stay with the company longer and take fewer sick days, annually saving the company a six-figure sum."
Links
National Apprenticeship Service
Published 3 November 2010