Bus Services Bill to help deliver more regular services for passengers
New buses bill will give councils new powers to deliver better journeys for passengers, and help cut rush hour congestion.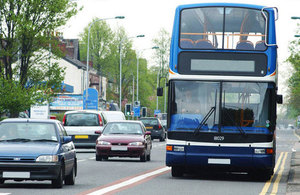 new apps for passengers telling them when the next service will arrive
councils will get new powers to work with operators to introduce smart tickets that work on trains and other forms of public transport, making journeys easier
A new bill that is designed to drive up bus use, help cut congestion and deliver economic growth has been introduced to Parliament.
Buses are England's most used form of public transport with over 4.65 billion journeys completed in financial year 2014 to 2015 – and this is the first piece of new legislation since 2008.
The Bus Services Bill will give councils new powers to work in partnership with companies to improve journeys for passengers, and bring in new technology including on-board Wi-Fi.
Without buses, rush hour congestion in city centres would be 21% higher costing millions of pounds in lost time.
Data about fares, timetables and routes will be openly available so software developers can produce apps that tell passengers when the next service will turn up. It is estimated this alone will lead to an extra 5 million journeys a year.
The proposals are designed to improve public transport to help cut congestion and unlock untapped economic growth across the country.
Roads Minister Andrew Jones said:
Good bus services can help cut congestion and deliver better journeys for hard-working people, helping them get around and get on. We are determined to increase bus usage and these measures are designed to give councils access to a range of powers to help deliver regular, reliable services for all.

We are also looking to end the frustration of not knowing when the next service will turn up, by giving software developers the data they need to produce new apps.
All councils will be able to enter into new 'enhanced partnerships' with bus companies under the new law.
Under existing partnerships, councils have achieved some real successes and passenger numbers soared 13% in a year after new buses with unique liveries were launched in Portsmouth and Waterlooville.
And the 'Oxford bus strategy' led to Stagecoach, Oxford Bus Company and Thames Travel jointly introducing a SmartZone card allowing passengers to travel on any bus in Oxford.
At present, councils have to invest in costly new infrastructure before they can create a partnership – even if it is unnecessary.
Areas with an elected mayor will get the power to bring in bus franchising, where they think it is appropriate, and say what services should be run in their area, just like in London.
Other councils, beyond the areas with an elected mayor, will also be able to franchise buses if they get permission from the Transport Secretary.
Tech companies will be able to download 'open data' with route and timetable information, so they can introduce new apps that will benefit passengers.
These changes are being made after Arriva successfully launched a national real-time app for their services in June 2014 – which has had 750,000 downloads.
Bus services across England are currently deregulated, meaning companies are free to choose what services they run, what buses they use and how much they charge.
In London buses are franchised, and companies bid to run the service on a particular route.
Private bus operators will continue to provide services and will own their vehicles whichever approach is taken. But they will compete for contracts in franchising areas.
The government is delivering on its commitment in devolution deals by giving areas with a directly elected mayor the power to improve services.
Roads media enquiries
Media enquiries 020 7944 3021
Out of hours media enquiries 020 7944 4292
Switchboard 0300 330 3000
Published 23 May 2016