Press release
Bus and lorry drivers to benefit from changes to tachograph cards
Roads Minister Stephen Hammond unveils plans that will benefit bus and lorry drivers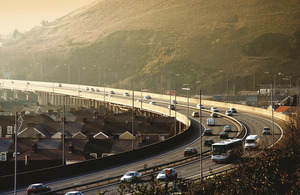 Bus and lorry drivers will no longer need to send their tachograph cards to DVLA when they change address under plans unveiled today (22 May 2013) by Roads Minister Stephen Hammond.
The proposed changes will save commercial drivers time and money and once again shows the government's commitment to getting rid of unnecessary red tape.
Roads Minister Stephen Hammond said:
It is unreasonable and unnecessary to ask bus and lorry drivers to return their tachograph card to DVLA every time they change address.

By removing the address on the tachograph card, we get rid of this unnecessary red tape, making it easier for bus and lorry drivers and making savings too.
Currently, the driver's address is included on the tachograph card. Drivers who change address must inform DVLA and on receipt of the new card return the old card to DVLA for destruction. Under the proposals, which are being discussed with the industry, the address will no longer appear on the tachograph card. Drivers will still need to tell DVLA if they change address, but there will no longer be a need to issue a new card or return the existing one.
Notes to editors
Driver tachograph cards are valid for five years. Under the proposals, the driver's address will no longer be recorded on the card. Drivers will still need to notify DVLA of any change of address – this will be recorded on DVLA's database to ensure that DVLA have the most up to date address.
DVLA handle around 20,000 change of address notifications for driver tachograph card holders every year.
DVLA send drivers a reminder approximately 12 weeks before their tachograph card is due to expire.
Press office
DVLA Press Office
Longview Road
Morriston
Swansea
SA6 7JL
Email press.office@dvla.gsi.gov.uk
Telephone (only for use by journalists and the media): 0300 123 0791
Telephone (out of office hours – only for use by journalists and the media): 0300 123 2407
Published 22 May 2013