Burmese Minister for Electric Power in UK
Burmese Minister for Electric Power U Khin Maung Soe is visiting the UK on July 7-10 for the second time, following his trip in August 2013.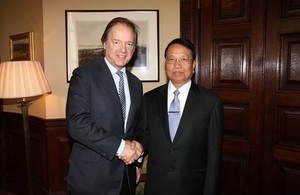 The minister will spend time in London, and Scotland. During the visit, he will meet The Rt. Honourable Alan Duncan, Minister of State for International Development; The Rt. Honourable Michael Fallon, the Minister of State for Business & Energy and The Rt. Honourable Hugo Swire, Minister of State at the Foreign & Commonwealth office. These meetings will provide an excellent forum to discuss Burma's political and economic reform process, UK support to the Ministry of Electric Power via development aid and the opportunities for British companies to invest in power generation and transmission in Burma.
As a highlight of the visit, H.E. U Khin Maung Soe, alongside Minister Hugo Swire, oversaw the signing of two landmark deals between British and Burmese companies on July 7. The first is between Rolls Royce and Zeya & Associates for the provision of three 9.2 MW gas turbines for the Hlawga power plant in Rangoon which will deliver 25MW of power to the Rangoon grid. The second is between Aggreko and Andaman Power and Utility for a temporary gas power plant in Kanbauk - the plant will provide affordable energy to the residents of Dawei who currently rely on diesel generators for electricity.
H.E. U Khin Maung Soe will also meet a number of British companies who are already doing business in Burma and others who are interested. He will visit an onshore wind farm in Scotland, providing a unique chance to learn from the UK's expertise in power generation and transmission.
Minister Hugo Swire said:
I am delighted to witness the signing of these two significant deals during HE U Khin Maung Soe's visit. Both Rolls Royce and Aggreko took part in a trade mission I led to Naypyitaw in December 2012, so it is a pleasure now to see business being done that supports important national infrastructure in Burma. British companies have great expertise to offer Burma in its economic development, and we hope this will ultimately support jobs and growth in both countries.
Lars Eikeland, President and CEO of Bergen Engines (part of Rolls Royce) said:
We are excited to be a partner in further developing the electrification of Myanmar. Zeya is a very competent partner and we are confident that this will be a successful project.
Venkie Shantaram, Group Business Development Director, Aggreko said:
Our partnership with Andaman Power and Utility is a great example of the multilateral opportunities in Myanmar. As global leaders in the provision of temporary power solutions, we are proud to be part of the country's continued development.
Published 8 July 2014