World news story
Burma: Honouring survivors of sexual violence in conflict
June 10 marks the beginning of the Global Summit on Ending Sexual Violence in Conflict.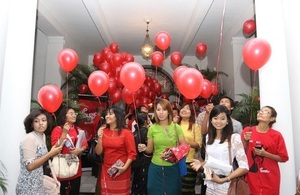 The summit is being co-hosted in London from 10-13 June by the British Foreign Secretary William Hague and Special Envoy of the UN High Commissioner for Refugees Angelina Jolie. The Summit is the largest international gathering ever held on this issue.
We welcome the Burmese Government's endorsement of the UN Declaration to End Sexual Violence in Conflict. Deputy Foreign Minister U Thant Kyaw is leading the government's delegation, and representatives from Burmese civil society and faith leaders are participating. Sexual violence in conflict exists in many countries across the world. It affects not only large numbers of women, but also men and children. In addition to the physical and psychological trauma suffered by survivors, sexual violence adds to ethnic, sectarian and other divisions, further entrenching conflict and instability. In Burma, the British Embassy is proud to be funding a project through Action Aid Myanmar which will improve access to justice for women survivors as well as developing mechanisms in the community to prevent and respond to acts of sexual violence. The project is benefiting women and girls in Kachin and Kayah, Rakhine states and Meikthila in Mandalay Division, and Pyapon in Irrawaddy Division, helping people to understand that sexual violence is unacceptable and inform the public about their legal rights and how to access services.
We are also proud to be funding Geneva Call's work engaging with armed non-State actors (or 'ethnic minority armed groups') to secure adherence to international standards in respect of sexual violence and gender discrimination.
Through international non-governmental organisations, the UK also gives support to legal assistance centres in Burmese refugee camps in Thailand and to trauma care in camps in Kachin State in Burma, both of which deal with rape cases. We also work closely with the UN in Rakhine State to strengthen work to prevent and respond to sexual violence there.
In parallel to the Summit, the British Embassy hosted several events in Yangon on 10 June including a Youth Event with a balloon release in honour of survivors and a Technical Experts Panel Discussion with UN agencies, NGOs and the diplomatic community. Our aim is to raise awareness of this issue and to discuss further how the international community can collectively create an irreversible movement towards ending the use of rape and sexual violence in conflict.
Photos of the events can be downloaded at www.facebook/fcoburma
Burmese version can be downloaded here.
Published 11 June 2014