Burma: Aung San Suu Kyi backs British aid
Aung San Suu Kyi welcomed the support which UK aid provides to Burma during a visit to DFID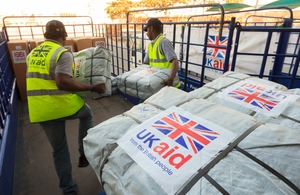 Aung San Suu Kyi welcomed the support which UK aid provides to Burma in a visit to the Department for International Development today.
As part of her UK trip, Aung San Suu Kyi visited DFID's London office to address staff after meeting the Development Secretary, Andrew Mitchell.
Gallery: See the pictures from Aung San Suu Kyi's visit
Get the flash player here: http://www.adobe.com/flashplayer
Andrew Mitchell and Aung San Suu Kyi discussed the future of development in Burma and the role British aid can play. DFID's Burma office has been working closely with the pro-democracy leader since her release from house arrest.
Aung San Suu Kyi said:
Aid that is given with the right intentions - in the right way - works. It must empower the people and promote the principles of a genuine democratic society.

The very poorest in the world are the ones who are most in need of help. Who is going to help the poorest of the poor if organisations like DFID do not?
International Development Secretary Andrew Mitchell said:
Aung San Suu Kyi is an inspiration and a personal hero to many across the world. It is an immense honour to have met her.

Her commitment to bringing real democracy and national reconciliation to Burma is a beacon of hope for the future. She represents the hopes and dreams of Burma's people.
Further British support for Burma was also announced today by the Prime Minister. Following recent conflict between the country's ethnic groups, the UK will give up to £3 million for short-term peace building initiatives in ceasefire areas. This will be subject to an agreement of results that will be achieved.
The UK is strongly committed to helping Burma strengthen its fledgling democracy: a delegation of Parliamentarians will travel to Burma in July to build parliamentary links and determine how best to support the democratic process.
British aid to Burma is on track to make sure 200,000 children complete primary school by 2015, as well as supporting 500,000 people to get treatment which will help contain the spread of drug-resistant malaria in the country.
In response to the remarkable changes in Burma over the past year, DFID plans to increase its support in each successive year to the elections in 2015, working together with the FCO on plans to build the rule of law, strengthen institutions of accountability, such as Parliament and the media, and support the emergence of a vibrant private sector on which Burma's longer term development depends.
Published 21 June 2012