Press release
Bulletin 02/2015 Derailment at Ashburys, Manchester
RAIB has today released its bulletin describing a derailment at Ashburys Yard Manchester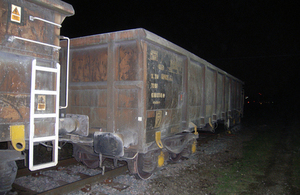 At approximately 19:35 hrs on Thursday 13 November 2014, a bogie box wagon on freight train 6H53, derailed as it departed from Ashburys Yard near Manchester.
The derailment was caused by the fracturing, through to the axle, of the right-hand leading wheel of the trailing bogie. This resulted in the loss of the interference fit between the wheel and the axle and permitted the wheel to move inwards on the axle.
RAIB has identified a learning point for freight companies and staff who undertake the examination of freight trains, highlighting the need to check for signs of overheated wheels.
PDF, 4.37MB, 14 pages
This file may not be suitable for users of assistive technology. Request an accessible format.
If you use assistive technology (such as a screen reader) and need a version of this document in a more accessible format, please email enquiries@raib.gov.uk. Please tell us what format you need. It will help us if you say what assistive technology you use.