World news story
Building up capacities in the Cuban financial and banking system.
British experts of the London Institute of Banking & Finance offer training to Cuban specialists on financial and risks management.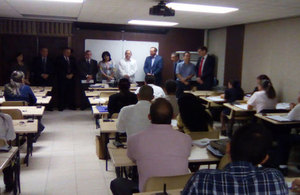 Anthony Henderson, Second Secretary of the British Embassy in Havana, Arnaldo Alayon and Ana Rosa Sardiñas, Vicepresidents of Cuban Central Bank, officially inaugurated this Monday "Principles of finance and risks", a training that British Professors Alastair Tyler and Patricio Fernandez from the London Institute of Banking & Finance are offering this week to 30 Cuban experts of the island's financial and banking system.
The training focused on the development of skills in terms of financial and risks management is part of a four module programme (one week each) that British experts from the above-mentioned institution will offer to Cuban specialists. It also follows-up the Memorandum of Understanding signed last March between the Foreign and Commonwealth Office and the Central Bank of the Republic of Cuba to strengthen bilateral co-operation in the financial and the professional services sector.
Published 26 October 2016