Press release
Building trade given £30m boost to get projects off the ground
Government backing of £30 million helps small construction businesses secure credit from B&Q and Screwfix via their TradeUK credit scheme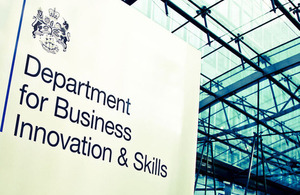 A pilot scheme to help small and sole trader construction businesses secure credit from B&Q and Screwfix stores via their TradeUK credit scheme has kicked off following government backing of £30 million.
Customers of B&Q TradePoint and Screwfix, part of the Kingfisher Group, can now apply for a credit account of up to £25,000, where previously they may have struggled to secure credit due to a lack of security or adequate credit history. Existing trade customers will be able to apply to extend their accounts for credit of up to £50,000.
Previously, these viable businesses would only have been eligible for credit of up to £3,000 from Screwfix or B&Q, making it harder for them to take on projects due to being unable to afford the upfront costs of the materials. Kingfisher is able to support the additional lending as a result of it being backed by a government guarantee.
The pilot is the result of work between the government and Kingfisher to adapt the existing Enterprise Finance Guarantee scheme to widen access to funding and provide alternatives to bank lending. Business Minister Michael Fallon will now be writing to other companies offering them an opportunity to take part in the pilot scheme and offer their customers access to this new source of finance.
Business Minister Michael Fallon said:
Builders and tradesmen are experiencing a real bottleneck when it comes to accessing credit, and projects are being held up unnecessarily. This pilot is an innovative attempt to make a real difference for the sector.
Britain's builders have a vital role to play in delivering growth in this country and we're determined to get behind them.
Ian Cheshire, Group Chief Executive of Kingfisher, said:
By piloting this new scheme we are backing Britain and backing the country's professional tradesmen. Access to credit and control of cashflow is vital for smaller tradesmen, so we are pleased that Screwfix and B&Q will be able to make it easier for more of their trade customers to get credit through this innovative new scheme. By backing Britain's tradesmen we can boost spending on the home and help get the economy moving again.
The pilot allows Kingfisher to give credit to trade businesses it would normally have to turn away, by sharing the risk through providing government guarantees of 75 per cent on its lending. As well as allowing Kingfisher to lend to viable businesses outside its present risk profile, the scheme also allows it to lend more to existing businesses.
The pilot has been designed so there is no new administrative burden to Kingfisher. All credit decisions will be made by Kingfisher based on existing processes, and customers and frontline staff will see no difference to the trade credit application.
Notes to Editors
1.The Chancellor announced at Autumn Statement that the government would be launching a trade credit pilot through the Enterprise Finance Guarantee scheme.
2.The pilot will start in March and run for nine months. It will be available nationwide through B&Q's TradePoint and Screwfix stores. Customers and front-line staff will see no difference to the trade credit application, and all credit decisions are subject to status.
3.A government guarantee helps underwrite Kingfisher's risk. This will benefit new and existing customers. Guarantees will be provided to support:
a. Viable businesses currently outside Kingfisher's risk profile.
b. Up to £25k for new customers who would have been subject to the standard limit
c. Up to £50k for existing customers who
4.The Business Minister made the announcement during a speech at Politeia. The pilot is not exclusive to Kingfisher. It is open to all trade credit providers across the range of business sectors and the government will be inviting other companies to take part.
5.The government's economic policy objective is to achieve 'strong, sustainable and balanced growth that is more evenly shared across the country and between industries'. It set four ambitions in the 'Plan for Growth' (PDF 1.7MB), published at Budget 2011:
to create the most competitive tax system in the G20
to make the UK the best place in Europe to start, finance and grow a business
to encourage investment and exports as a route to a more balanced economy
to create a more educated workforce that is the most flexible in Europe.
Work is underway across government to achieve these ambitions, including progress on more than 250 measures as part of the Growth Review. Developing an Industrial Strategy gives new impetus to this work by providing businesses, investors and the public with more clarity about the long-term direction in which the government wants the economy to travel.
Published 25 March 2013