News story
Budget 2014: further action to enhance UK Export Finance support
UK Export Finance is to boost its direct lending programme and consult on changes to broaden its powers to support exports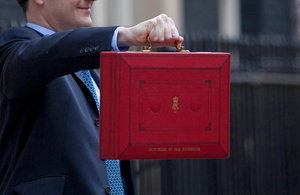 We have provided record levels of financial support to British businesses, with a total of around £11.8 billion since 31 March 2010.
We are committed to making the support we offer to exporters as competitive as we can, within the applicable international rules.
Today's Budget outlined a package of changes to support this ambition.
Direct Lending and Finance
When the customers of UK exporters are having difficulties securing export finance from other sources, we can assist by providing direct loans. When launched in 2013, our Direct Lending Scheme was structured as a backstop, with accessibility and pricing appropriate to that aim. Following early feedback and a desire to support firms more actively, we will now:
double the size of our Direct Lending Scheme to £3 billion

make the scheme permanent

relax conditions on loan sizes, and lend at the minimum interest rates allowed by international agreements

work in partnership with the private sector providers to deliver the enhanced lending scheme
Read more about our Direct Lending Scheme.
We will also commence the operation of an Export Refinancing Facility by the end of April 2014, which will ensure that long-term funding is available to overseas buyers of British exports when supported by UK Export Finance.
Read more about the Export Refinance Facility.
Broadening powers
We have launched a consultation on proposed changes to legislation, which would give us a more generalised ability to support businesses in the UK that are engaged in exporting or exporting supply chains as opposed to support directly connected to identifiable export contracts, which is the situation now.
Read full details of the proposed changes.
Raising awareness
We will also continue to raise the awareness of export finance in general, and the products and services that UK Export Finance provides exporters, by increasing the number of export finance advisers based around the country, and by putting additional resources behind our marketing and communications activities.
Speak to an Export Finance Adviser in your region.
Media enquiries: Julia Beck, Media Relations Manager
Published 19 March 2014