World news story
Budget 2013 - what it means for the UK's work in Burma
UK becomes the first G8 country to meet the 0.7% overseas development assistance target.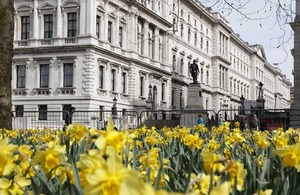 The UK's Chancellor of the Exchequer delivered his Budget to Parliament on 20 March 2013. The Government's plan for the economy, first set out in June Budget 2010, is based on:
Fiscal responsibility to deal with our debts with a credible deficit-reduction plan

Monetary activism to support demand and keep interest rates low

Supply-side reform to help businesses create jobs and deliver lasting prosperity
The Chancellor also announced that this year Britain will meet its target to spend 0.7% of gross national income on aid, becoming the first member of the G8 group of countries to meet the long-standing UN target. Britain is sticking to the target despite the difficult global economic situation.
Welcoming the news, the UK's international development secretary, Justine Greening said:
Achieving this pledge is not only the right thing to do, it is a smart investment for Britain too. International development is in our interests not just because it creates new markets, but because it can deliver a more balanced, resilient global economy.
UK assistance in Burma
The UK will continue to work to secure a peaceful and prosperous Burma with a government that is accountable and respects human rights.
The UK's DFID will spend an average of £46 million per year in Burma until 2015. This support is delivered through the United Nations and reputable international and local NGOs.
Part of this funding will provide £600,000 to the Institute for Human Rights & Business to develop a Responsible Business Resource Centre in Rangoon, Burma. The aim is to raise awareness of responsible business practices in line with the UN Guiding Principles on Business & Human Rights.
Building Prosperity
The British embassy has recently established a Prosperity Team. We want to work with Government, Parliament business, civil society and international organisations to support the establishment of transparent and stable regulatory regimes and the promotion of economic policies that underpin strong, sustainable, balanced and low carbon growth.
Funding will be available for projects to help us reach these targets. Details will be published on this website in due course. In the meantime, if you have any questions or suggestions relating to Prosperity please send them to BE.Rangoon@fco.gov.uk
Published 26 March 2013