The Chancellor has announced his Budget 2012, setting out the Government's plans for the economy in the year ahead.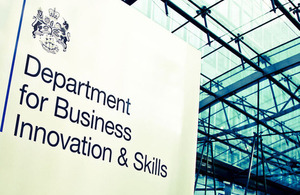 The Budget maintains the Government's strategy in returning the UK to sustainable, balanced economic growth.
Full details of the Budget 2012 report are available here.

The announcements today are designed to help business across the UK and help the smallest firms grow and prosper. It also looks to the future by investing in research and innovation to put Britain at the cutting edge of emerging technologies.
It demonstrates the ongoing commitment to delivering the work that has already been announced through the Growth Review.

Main announcements for BIS include:
£100m University co-investment fund to encourage universities to leverage in private sector, or charity, co-investment in long-term research partnerships.
£60m investment to establish a word-class UK centre for aerodynamics.
£100m to increase the supply of capital for our Small and Medium sized firms through non-bank lending channels.
An Independent Review of Competitiveness to be carried out by Lord Heseltine.
A relaxation of the Sunday Trading rules over the Olympics to ensure that visitors to the UK have the best experience possible. It is an opportunity to show that the UK is 'open for business'.
A £1 trillion target for exports by 2020.
Announcement of the final two Catapult Centres to help British businesses and researchers work together on the problems faced in modern urban areas and on over-burdened transport systems.
Further details will be available here later today.
Links
Published 21 March 2012