Budapest Pride photo exhibition opening
British Deputy Head of Mission Theresa Bubbear opened Budapest Pride's "Pictures of Eastern European Pride Festivals" photo exhibition.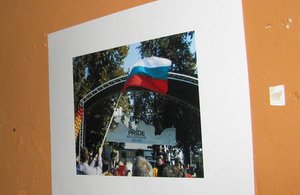 The event on 1 July 2013 was organised as part of the 18th Budapest Pride Festival, which the British Embassy in Budapest openly supported. British Deputy Head of Mission (DHM) Theresa Bubbear was the exhibition's guest of honour.
In her Hungarian speech DHM Bubbear thanked the organisers for selecting British activist Clare Dimyon's picture series for the exhibition and congratulated them on putting together a large number of cultural events for the festival.
The British Embassy in Budapest has long been a supporter of human rights, including LGBT rights. In February 2013 Theresa Bubbear was one of the opening speakers of the First Hungarian LGBT History Month, one of the events which the British embassy hosted. For the fifth consecutive time, the British embassy drafted and issued a joint statement of support of the 18th Budapest Pride with likeminded diplomatic missions and financially contributed to the Pride's cultural events.
Published 11 July 2013