Budapest Conference on Cyberspace
William Hague: "I urge governments, international organisations, civil society and industry experts to come together in Budapest and address one of the great challenges of our time".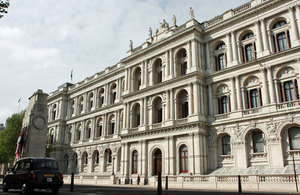 The Budapest Conference on Cyberspace takes place in Hungary on the 4-5 October.
Cyberspace presents significant challenges, but also enormous opportunities, particularly for economic and social development.
In November last year the UK hosted the London Conference on Cyberspace which began a dialogue on cyber issues and set the agenda for further work to build a secure, resilient and trusted global digital environment.
The Budapest Conference will build on the London Conference and picks up the themes that were discussed. These were economic growth and development, social benefits, cyber crime, safe and reliable access and international security.
Foreign Secretary William Hague will attend the conference as well as Cabinet Secretary Francis Maude.
Mr Hague said:
"This Conference comes at an increasingly important time for governance of the Internet with cybercrime costing the world economy billions of Euros every year and the numbers and sophistication of cyber attacks on national infrastructures rising every year.
"No one can ignore this - or the tide flowing for transparency, open information and the free exchange of ideas."
At the London Conference, which was attended by more than 700 participants from 60 countries including Russia and China, it became clear that there was a real hunger throughout the world to provide a safe and secure future for the internet.
The Foreign Secretary said he hoped the Budapest Conference will "accelerate the international debate on cyberspace and move it further towards a permanent footing".
"We must establish a balance of responsibility whilst protecting human rights so that information and ideas continue to flow freely, a principle which has contributed to making the Internet the dynamic force it is now.
"I urge governments, international organisations, civil society and industry experts to come together in Budapest and address one of the great challenges of our time."
Published 2 October 2012