Brunei-based British forces remember the fallen
Soldiers from British Forces Brunei (BFB) have paid their respects to fallen Service personnel by laying wreaths at several sites across Borneo, including a sunken ship.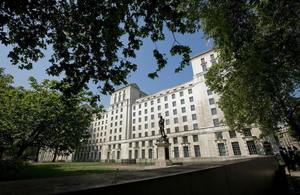 From the Second World War onwards, British and Commonwealth forces have served across Borneo in numerous guises. It was therefore fitting for officers and soldiers currently serving in Brunei to pay their respects to those who died in service across Borneo.
Remembrance tributes began on Friday 9 November 2012 with Brunei Garrison and 2nd Battalion The Royal Gurkha Rifles observing the traditional two minutes' silence at 1100hrs prior to wreaths being laid at the foot of plaques listing those Gurkha soldiers that had fallen in both the First and Second World Wars.
On Sunday 11 November, officers and soldiers from BFB visited sites across Borneo to pay their respects.
A memorial service was conducted in the garrison primary school, Hornbill School, which was open for all BFB personnel to attend. During the service wreaths and wooden crosses were laid and a two-minute silence was held for those that had fallen in the line of duty.
Ten personnel from BFB made the trip to Labuan, an island north of Brunei which was strategically important as a key area between Malaya and Australia during the Second World War. It was utilised as a forward mounting base for numerous large scale operations.
The war cemetery is situated about 3km outside Victoria, the capital of Labuan, where there are in excess of 700 British servicemen buried from a variety of regiments including the Royal Artillery, the Royal Army Service Corps and the Royal Signals. The original cemetery was in Sandakan, Malaysia, on the Borneo mainland, but, as it was prone to flooding, the remains and memorials were moved to Labuan.
This was an excellent opportunity for serving soldiers to pay their respects on behalf of BFB and HM Forces. Corporal Premprakash Rai of 2nd Battalion The Royal Gurkha Rifles said:
It was a great honour to pay respect to our forefathers who died fighting during the Second World War. I had visited Labuan many times before but did not realise that it had such history. It was very moving to see the sheer number of soldiers' graves, especially considering that most were unnamed.
Personnel from 7 Flight Army Air Corps (AAC) placed a wreath at the memorial for the four airmen involved in a mid-air collision in 1950.
During a routine flight from RAF Labuan to RAF Tengah (Singapore) two Mosquito aircraft of 81 Squadron RAF collided off the coast of Seria, Brunei; there were no survivors. The ages of the pilots ranged from 20 to 26 years old.
On both the anniversary of the crash, and on Remembrance Day, 7 Flight personnel, including FB Heliservices aircraft engineers, conduct parades at the memorial in Kuala Belait's Christian Cemetery.
This year, four Royal Engineers and six personnel from 7 Flight AAC visited the memorial and conducted a short ceremony of remembrance.
The Kukri Divers' Sub Aqua Club placed a wreath on the mast of the USS Salute - an American minesweeper that sank in Brunei Bay after being struck by a mine on 7 June 1945 whilst undergoing preparation for the invasion of Borneo.
Between 1944 and 1945 the USS Salute was involved in operations across the Pacific region. After escorting convoys between Pearl Harbour, Majuro, Kwajalein, Eniwetok, Guam and Saipan she was involved in supporting the Leyte invasion and landings in the Philippines. Staff Sergeant Langmen of the Royal Logistic Corps said:
The unfortunate poor visibility and underwater currents made this a challenging dive; however this did not detract from the reason that we were there. It was a great honour to be able to lay a wreath on the mast of the USS Salute and pay our respects, not just to the sailors of the USS Salute but to all Service personnel.
Published 14 November 2012