Brothers service Apache helicopters in Helmand
Two brothers are serving together in Afghanistan for the first time, servicing the Apache gunships of 654 Squadron Army Air Corps.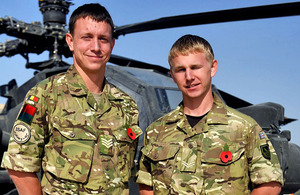 Staff Sergeant Ray Neenan, aged 29, and Corporal Darren Neenan, 21, are from Chatham in Kent.
Ray joined the Corps of the Royal Electrical and Mechanical Engineers (REME) in 1998 as an apprentice aircraft technician, the mechanics responsible for the maintenance and repair of the Army's helicopters. Eight years later his younger brother Darren followed him into the trade.
Although they have followed a common career progression, they have never crossed paths professionally until now. Ray is an Aircraft Artificer in 654 Squadron's Close Support Section in Afghanistan while Darren is part of 7 Air Assault Battalion REME, who have sent extra technicians to bolster the support section during a tough and demanding deployment to Camp Bastion in Helmand province.
Darren was only seven years old when Ray joined the Army at the age of 16:
This is the most time we've spent together by a country mile," says Ray. "I've been keeping an eye out for him; we're getting to know each other a lot better.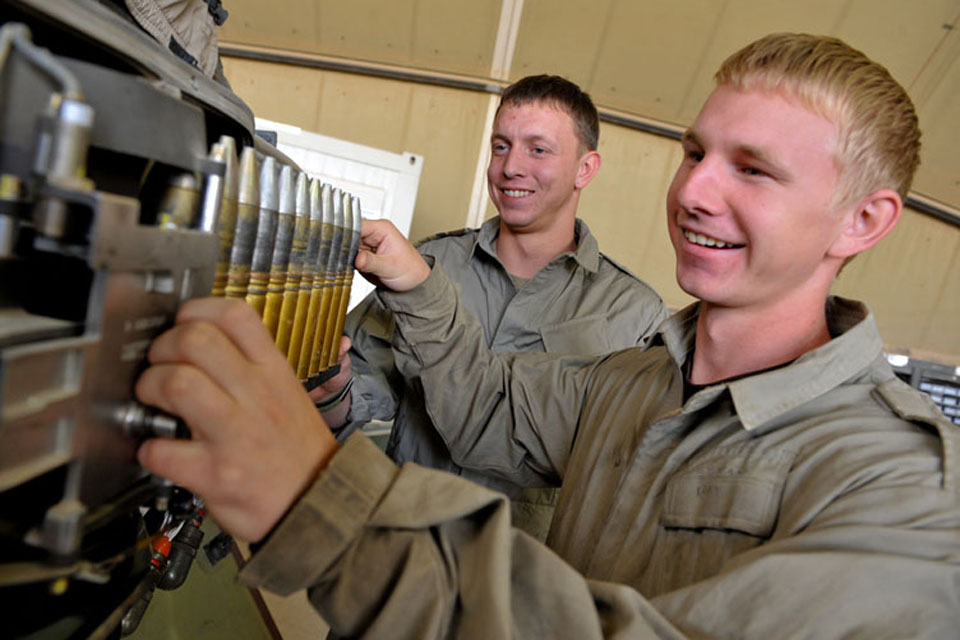 Ray is A Crew's Artificer, which makes him Darren's boss:
Bossing my brother around is no different to the rest of the lads," said Ray. "At the end of the day, he's another guy on the shop floor. No special favours.

This is my second tour of Afghanistan, and things are totally different. Last time I was here it was just a small detachment, and now the whole world and his dog are here. Infrastructure and support are much better.
Darren also joined the Army at the earliest opportunity, aged 16. He is one of the Class 2 aircraft technicians in A Crew that work on the mechanical systems of the aircraft amongst the grease and oil. This is Darren's first tour:
The job's all right as it's allowed me to get into a routine out here. Mostly working, sleeping and working out in the gym, but time's going quickly," he said.
Having Ray as a boss is okay, some of the guys have asked me to approach Ray to see if we can get an easier time, but I'm too professional for that. There's light-hearted banter about having a big brother watching over.
Darren slipped with a torque wrench a few weeks ago, picking up a minor injury to his hand. As the first-aid-trained supervisor it was Ray's job to apply the bandage:
We took a little stick over that," Ray says.
Military service runs in the family; Ray and Darren's sister Sarah and other brother Tom were both in the Army.
The Apache AH Mk1 attack helicopter is the most sophisticated weapons system currently in service with the British Army. Operated by members of the Army Air Corps in Afghanistan, the helicopter has three principal roles: escort for other aircraft types, primarily the RAF's Chinooks, which move troops and equipment around theatre; deliberate and pre-planned operations; and reactive assistance to troops coming under fire.
Published 17 November 2010