Brothers reunion in Helmand
Corporal Adams is currently serving at Camp Bastion working as a member of the Tactical Supply Wing delivering fuel, food, equipment and mail…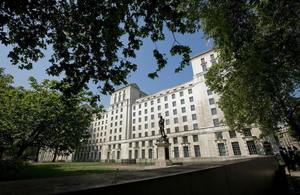 Corporal Adams is currently serving at Camp Bastion working as a member of the Tactical Supply Wing delivering fuel, food, equipment and mail to the troops at the forward operating bases (FOBs).
One of these FOBs is where Private Wayne Adams will be based for the next six months, once he has completed a short phase of training at Bastion.
Private Adams, aged 29, is a member of 3rd Battalion The Mercian Regiment and will be conducting ground-holding operations until October 2011 as part of Op HERRICK 14.
Private Adams is normally based at Fallingbostel in Germany and Corporal Adams will return to Stafford in the Midlands in June 2011.
The brothers have not seen each other since Christmas and, by their own admission, the reunion was quite an emotional one:
Darren came and found me on one of the training days and as soon as I heard him shout my name I knew it was him and my stomach turned; it was brilliant to see him after so long," said Private Adams.
The brothers had the opportunity to spend a few hours over the next few nights chatting over coffee, mainly about how they can keep in touch with their family.
Corporal Adams confessed to being worried about his 'little brother' before he arrived:
We have agreed to keep in touch and I will be the one to let Mum know that our Wayne is okay," he said.
Private Adams was far more straightforward about the whole thing:
I have trained for 18 months for this tour and I am as ready as I will ever be; I just want to get on and do it now and then get home to all my loved ones.
The next time the family will have the opportunity to all be together again is in a couple of months when Corporal Adams is home and Private Adams takes his leave.
Published 5 May 2011