Brothers celebrate Christmas on patrol in Kabul
While many families will be enjoying spending time together at home on Christmas Day, two pairs of brothers will be spending the day together serving in Kabul, Afghanistan.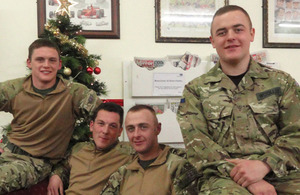 Lancashire lads Anthony, aged 26, and David Woolley, 25, from Morecambe are Signallers serving with their mates from West Yorkshire, Lance Corporals Stephen, 22, and Michael Day, 24, (Doris and Dozzer to their mates). They are all part of the Camp Souter Force Protection and Transport Company in Kabul, Afghanistan.
On Christmas Day it will be business as usual for them, out on patrol, but they are all looking forward to having their Christmas dinner served to them later in the day by the seniors and officers of the Unit.
The Day brothers, from Tingley, are both Vehicle Commanders which sees them leading vehicle patrols in and around Kabul city.
Signaller (Sig) Anthony Woolley carries out the same job and his brother David looks after communications on the camp.
LCpl Stephen Day said:
It's different to a normal signals job, but it's nice to get out on the ground. I've noticed a change in the atmospherics with the locals since we've been here.
"We've been getting out every day and doing aid projects with them and their facilities have improved a lot during our time here. I think it helps that we're not scared to talk to them"
Sig Anthony Woolley said:
You get to mix with the locals, there's one lad who's become a bit of a friend, he always tries to help stop the traffic for us when we're out by talking to the local people in their own language.
LCpl Michael Day said:
A lot of the children, six- and seven-years-olds, try to talk to you in English, I knew a man who worked on camp who used to try and learn words and phrases while he was at work so that he could go home and teach English to his children.
As part of the soldier's role it's important to engage with the local community and a number of projects have been carried out during their tour.
One which was completed recently was the building of a room which had been added to a Mosque to allow children to learn English during the winter months. Another was the completion of a new building at a school which has so many pupils that they currently have to attend lessons in shifts.
When asked whether they worried about each other when they were serving together in Afghanistan, LCpl Michael Day said:
I prefer to have him [Stephen] closer to me so that I can keep an eye on him!
Sig Anthony Woolley said of David:
It's ok for me, David works in communications on the camp, so all I have to worry about is him getting tangled up in telephone cables!
The lads will all be missing their families this Christmas, but look forward to returning home to the North of England in the New Year.
Published 24 December 2010