Brooke Kinsella to help government tackle knife crime
Brooke Kinsella is to head up a fact-finding mission into the work of schemes designed to stop young people carrying and using knives, Home Secretary Theresa May announced today.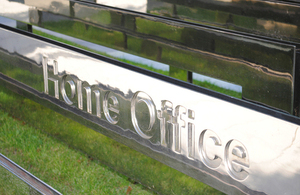 The former EastEnders star, whose brother Ben was murdered two years ago this week, has been asked by the Home Secretary and the Prime Minister to assess the effectiveness of current work designed to keep young people away from violent crime.
She will visit projects across the country that work to stop young people from getting pulled into a world of violence - in particular schemes trying to stop teenagers carrying and using knives.
Her findings, including details of the types of project she thinks are making the biggest difference, will be presented to the Home Secretary later this year to help shape the Government's work in tackling knife crime and serious violence among young people.
Home Secretary Theresa May said:
'The tragic loss of life we've seen on our streets, like the death of Ben Kinsella, is unacceptable and we need to help young people stay safe by ensuring they know the dangers of carrying and using knives.
'We want Brooke to take a look at projects currently working to stop knife crime, to meet with young people on these courses and tell us which schemes are really making an impact.'
Prime Minister David Cameron said:
'I am so pleased that Brooke is helping the Government to tackle knife crime. She knows how violence can shatter people's lives - but she also believes it doesn't have to be this way. Young people don't have to get sucked into violent, hopeless lives. Communities don't have to be places of anger and fear. Families like hers don't have to suffer so cruelly and needlessly.
'Brooke brings passion and insight to this role and I look forward to working with her in a determined, unremitting fight-back against youth violence.'
Brooke will start visiting projects across the country from next month; sitting in on education sessions, meeting mentors and speaking with young people on the courses.
Brooke Kinsella said:
'Most young people are hard working and law abiding, but those who carry knives need to know its wrong and the horrible consequences of their actions.
'It is important young people can live without fear of attack. Which is why I support positive activities that encourage young people not to carry knives, as well as the use of tough punishments when they do.
'I'm pleased the Home Secretary has asked me to do this work because I want to make sure youngsters across the country are getting the best help available - in the hope it helps stop other families going through what we did.'
The work Brooke is undertaking will be fed into a report for the Home Secretary which will be used to help develop the Government's approach to tackling knife crime and youth violence.
Notes to editors
1.      Tackling serious youth violence and knife crime is a priority for the Government. That is why the Coalition's programme for Government includes a commitment to make sure hospitals share non-confidential information so that the police can identify where gun and knife crime is happening and target action in these hot spots.
2.      For more information call the Home Office press office on 020 7035 3535
Published 29 June 2010