News story
Brokenshire pays tribute to Martin McGuinness
The Secretary of State pays tribute to Martin McGuinness, former deputy First Minister, who died earlier this morning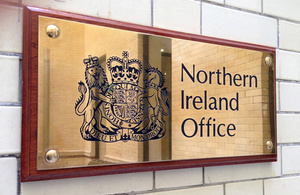 I want to extend my sympathy and sincere condolences to the family of Martin McGuinness at this difficult time.
Martin's personal journey and the clear influence he had on others in the Republican movement were instrumental in shaping political institutions in Northern Ireland founded on exclusively peaceful and democratic means.
While not forgetting the past, no-one can doubt the essential role he played in helping to secure the power sharing arrangements and political progress in Northern Ireland. Martin's commitment to reconciliation and understanding across communities was a significant factor.
Whilst passionate and robust in his politics, on a personal level I always found Martin to be thoughtful and reflective and appreciated the personal consideration he showed. The importance of family and his home in Derry shone through.
Martin will be remembered for his contribution to politics in Northern Ireland and particularly during his near ten years as deputy First Minister.
Published 21 March 2017