News story
Brokenshire attends GAA Dr McKenna Cup Final
Later this evening, Rt Hon James Brokenshire MP, Secretary of State for NI, will attend the much anticipated 2017 Bank of Ireland Dr McKenna Cup final at Páirc Esler, Newry.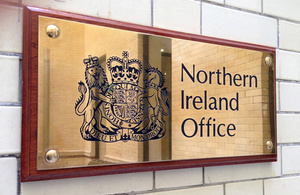 Tonight's game promises to be a fiercely contested match, with old rivals Derry and Tyrone gearing up for a win.
Mr Brokenshire's attendance at this prestigious event marks the first time a Northern Ireland Secretary of State has attended a GAA match played in Northern Ireland. Speaking ahead of the match, Mr Brokenshire said:
I am absolutely delighted to have been invited to attend the Dr McKenna Cup final this evening. You cannot fail to be struck by the sheer passion that GAA supporters have for their game, and the true community spirit that it generates.
The GAA promotes a strong community ethos and the support initiatives they offer to their wider communities must be congratulated. I encourage them to continue with this important work.
Published 28 January 2017