Press release
Brokenshire appoints UK Commissioner to new Independent Reporting Commission
The Secretary of State for Northern Ireland Rt. Hon James Brokenshire MP today announced the appointment of Mitchell B Reiss as the UK Commissioner to the Independent Reporting Commission. Mr Reiss' appointment will take effect in January 2017.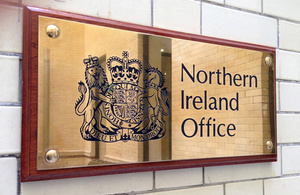 The Independent Reporting Commission is one of a series of measures set out in the Fresh Start Agreement reached on 17 November 2015 to help bring an end to paramilitarism and to tackle organised crime. It was established by an international treaty between the UK Government and the Government of Ireland which was signed on 13 September.
The international body's key functions will be to report on progress towards ending continuing paramilitary activity and on the implementation of the relevant measures of the UK Government, the Government of Ireland and the Northern Ireland Executive, including oversight of the implementation of the NI Executive's strategy to disband loyalist and republican paramilitary groups. It will begin work in the New Year when supporting legislation is in place in both jurisdictions, and will report at least once a year until 2021.
Speaking after the Fresh Start Agreement quarterly meeting, Mr Brokenshire commented:
I am delighted Mitchell Reiss has agreed to accept the position of UK Commissioner to the Independent Reporting Commission. His international standing and expertise as a former senior diplomat and Special Envoy to Northern Ireland will provide strong skills to the body which has been established as one of the Fresh Start commitments to eliminate paramilitarism and tackle organised crime.
Our communities want and deserve a fresh start. They want young people to grow up and live in a safe place, to have opportunities and to achieve their full potential. I am confident that the establishment of this international body will play an important role in ensuring that this is realised.
Let me be clear, there was never any justification for paramilitary activity in the past and there is none today. These criminals prey on society using the cloak of paramilitarism to line their own pockets. We must not allow this to continue. That is why there is a concerted effort being made right across Government and throughout the community to challenge their criminal activities and rid society of the scourge of paramilitarism.
The newly established Commission will comprise four Commissioners, with the UK and Irish Government nominating one member each and the Northern Ireland Executive nominating two members.
The Government of Ireland's nominee is Tim O'Connor, and the Northern Ireland Executive's nominees are Monica McWilliams and John McBurney.
The UK Government is providing up to £3million, under the Fresh Start Agreement, to establish and fund the Commission over four years.
The Commission will consult a wide range of stakeholders, including law enforcement agencies, local councils, communities and civic society organisations, and its reports will inform the Northern Ireland Executive's Programme for Government priorities through to 2021.
Note to editors:
Mitchell B Reiss is a former United States Special Envoy for Northern Ireland who is currently President and CEO of the Colonial Williamsburg Foundation in Virginia. He previously served on the US National Security Council, the US Council on Foreign Relations and has held positions with the Ford Foundation, the Cambridge Institute for Applied Research, Lawrence Livermore National Laboratory and Los Alamos National Laboratory.
His appointment is part-time for a period of four years commencing in January 2017. He will be remunerated at a rate of £17,500 per annum.
Mr Reiss has declared no political activity within the UK in the past ten years.
Published 14 December 2016