Broadband boost for 1,126 Welsh businesses
More businesses encouraged to apply while funds last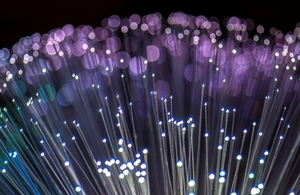 More than 1,000 small and medium businesses (SMEs) in Cardiff, Newport and Swansea have now benefitted from the UK Government's Broadband Connection voucher scheme, latest figures published today show.
The grant, in the form of a voucher, allows businesses to apply for funding of up to £3,000 each to cover the costs of installing faster and better broadband. The scheme is part of the government's broadband transformation across the nation, helping cities to create and attract new jobs and investment, and making the UK the best place in the world to do business.
So far, 1,126 businesses in Cardiff, Newport and Swansea have received grants. UK wide, more than 25,000 businesses in the 50 cities participating in the scheme have benefitted, with thousands more currently going through the application process.
Wales Office Minister Alun Cairns said:
These figures mark another milestone in our aims to improve broadband connectivity in Wales. Having access to faster and more reliable broadband connections is instrumental in driving growth and boosting the local economy.

The broadband voucher scheme has been hugely successful in enabling businesses in Cardiff, Newport and Swansea to get on with what they do best – enterprising, innovating and – most importantly – creating jobs which give this country the long-term economic security we need.
Digital Economy Minister Ed Vaizey said:
The Government's broadband connection voucher scheme is proving tremendously popular and we are now issuing around 1000 vouchers every week. Businesses need to be properly equipped for all the challenges of the digital world in which we live and I urge all eligible businesses to apply as soon as possible to make sure they don't miss out on the fantastic offer.
The Government has made £40m available in 15/16 for the scheme, and the vouchers are being issued on a "first come, first served" basis. Funds have not been ring fenced for individual cities, and Government is encouraging all eligible businesses to apply before the available funds are exhausted.
The scheme has helped a huge variety of businesses to date, including cafes, graphic designers, architects, estate agents, mechanics, events coordinators and caterers.
| Region | No. of vouchers issued |
| --- | --- |
| Scotland | 1043 |
| Wales | 1126 |
| Northern Ireland | 1356 |
| North West | 4188 |
| North East | 653 |
| Yorks and Humber | 3781 |
| Midlands | 2660 |
| London | 8857 |
| East of England | 601 |
| South East | 1047 |
| South West | 845 |
Benefits small businesses are seeing as a result of a faster connection include:
Growing and accessing new markets through better communication with customers and suppliers
Increasing security through fast secure back-up of data
Increasing productivity and improving customer service through faster upload and download speeds
More information on the connection voucher scheme is available here
Notes to Editors
The Scheme is managed by Broadband Delivery UK (BDUK), part of the Department for Culture, Media and Sport. BDUK also manages the nationwide rollout of superfast broadband that is currently underway and will reach 95 per cent of the UK by 2017.

The table below sets out how many vouchers have been issued in each city (as of June 2015). Please note that cities joined the scheme at different times which will be reflected in the number of vouchers issued. Cities marked with an asterisk joined scheme in April this year.
| Cities | No of vouchers |
| --- | --- |
| Aberdeen | 168 |
| Dundee* | 5 |
| Edinburgh | 686 |
| Glasgow* | 105 |
| Inverness* | 7 |
| Perth | 57 |
| Stirling* | 15 |
| Cardiff | 961 |
| Newport | 115 |
| Swansea* | 50 |
| Belfast | 1,119 |
| Derry/Londonderry | 237 |
| Manchester | 2,924 |
| Salford | 556 |
| Liverpool* | 657 |
| Preston* | 51 |
| Middlesbrough* | 26 |
| Newcastle | 614 |
| Sunderland* | 13 |
| Hull* | 266 |
| Leeds-Bradford | 3,085 |
| Sheffield* | 188 |
| York | 242 |
| Derby | 211 |
| Leicester* | 64 |
| Nottingham* | 55 |
| Birmingham | 1,621 |
| Coventry | 641 |
| Stoke on Trent* | 40 |
| Wolverhampton* | 28 |
| Cambridge | 451 |
| Ipswich* | 23 |
| Milton Keynes* | 78 |
| Norwich* | 17 |
| Peterborough* | 32 |
| London | 8,857 |
| Brighton & Hove | 412 |
| Bournemouth* | 80 |
| Chelmsford* | 14 |
| Oxford | 233 |
| Portsmouth | 254 |
| Reading* | 20 |
| Southend on Sea* | 11 |
| Southampton* | 23 |
| Bristol | 742 |
| Exeter* | 37 |
| Gloucester* | 28 |
| Plymouth* | 23 |
| Swindon* | 15 |
Published 24 June 2015