Brize Norton continues its evolution into main RAF hub
An area of Helmand, once known as a hotbed of insurgent activity, has adopted a very different air - with its community now coming together through the medium of cricket, aided and encouraged by soldiers from the Royal Irish Regiment.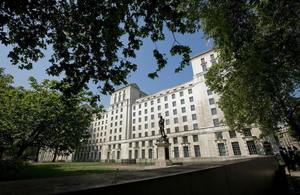 Once a favoured ambush zone for insurgents seeking to mount attacks, the area of Shingul in northern Nad 'Ali was heavily contested, with members of Shropshire-based 1st Battalion The Royal Irish Regiment having regular and intense engagements with enemy fighters.
But thanks to their counter-insurgency campaign, carried out alongside their partners from the Afghan National Army (ANA), the village has left its troubled past behind and now has a strong sense of security and normality.
And, thanks to one Royal Irish soldier, a piece of farmland which was once a battlefield is now home to regular battles of a different kind - competitive sports matches in which dozens of local men and boys participate.
The idea to donate cricket gear to the village came from Sergeant Trevor McDowell, a Territorial Army soldier deployed in Nad 'Ali with the Royal Irish. Sergeant McDowell made the recommendation to his commanders after witnessing around 40 locals using makeshift equipment to play a game similar to rounders in the village centre.
After securing the equipment, Sergeant McDowell arranged for local ANA commander Sergeant Izat to officially present the cricket gear to village elder Saiful Malif and district councillor Muhammad Essa.
Then, in order to ensure that the locals were clear on the complex rules of the game, the British and Afghan troops staged a quick match between themselves, before clearing the field for the children and adults of the village to play - under the guidance of another village elder, Haji Ghawm, who acted as umpire.
Sergeant McDowell explained:
We knew that our efforts had transformed the local area and brought normality to the people when our patrols witnessed locals playing stick and ball games on previously contested ground. These games, and the relaxed posture of the locals, were a clear sign of success and proof of what can be achieved with security.

I was really pleased to obtain and distribute the cricket gear with my ANA colleagues. In the future I hope all Afghan children feel safe enough to laugh and play in the way they now can here.
Sometimes it's the smallest things that make this job worthwhile. Seeing soldiers teaching Afghan children cricket and then walking away, letting the children's fathers and the village elder carry on while we quietly observed in the background, was a great feeling - particularly knowing what this area was like not very long ago.
Village elder Haji Ghawm said:
I was very impressed with the sports day that the soldiers organised. I brought my three sons and now they aspire to play cricket for Afghanistan.
District councillor Muhammad Essa said:
I am so glad the children can play again and this is only because of the security provided by the ANA and ISAF.
Captain Amin Jan of the Afghan National Army said:
This is a great thing to see. It shows that we are doing a good job when the fields are full of children playing.
Published 1 February 2011