News story
Britten-Norman BN2A-26 at V.C. Bird Int Airport, Antigua 7 Oct 12
Report by the Eastern Caribbean Civil Aviation Authority.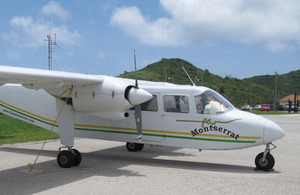 The Eastern Caribbean Civil Aviation Authority has published an accident report on the accident to Britten-Norman BN2A-26, registration VP-MON at V.C. Bird International Airport, Antigua on 7 October 2012.
The accident was notified to the Eastern Caribbean Civil Aviation Authority (ECCAA) immediately and senior staff attended the accident site and began an investigation. The investigation was conducted under the Antigua Civil Aviation Regulations 2004. In accordance with established international arrangements, the Air Accidents Investigation Branch (AAIB) of the United Kingdom, representing the State of Design and Manufacture of the aircraft and (through its registration in a British Overseas Territory) the State of Operator, appointed an Accredited Representative to participate in the investigation. The AAIB Accredited Representative was supported by an AAIB Advisor. Britten-Norman, the aircraft manufacturer, was informed of the accident and offered assistance. Montserrat Airways Limited, the operator, cooperated with the investigation.
Published 15 October 2015