Brits and Afghans lead operations to clear Taliban hotspots
A recent joint operation by British and Afghan forces has helped clear two villages of insurgent activity in the Nad 'Ali region of Helmand province, extending the area of freedom and security for local people.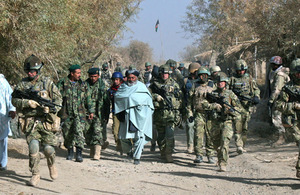 Operation TOR ZHEMAY 3 (Black Winter) saw UK and Afghan troops from the Afghan National Army storm an area to the south west of Nad 'Ali between the villages of Zangal and Sayedabad.
The offensive led to 14 insurgents being killed and 15 more wounded and captured, extending an area of security for local Afghans.
'Black Winter' is the latest in a series of successful operations designed to clear insurgents from the former Taliban stronghold of Sayedabad to the south of Nad 'Ali.
Operations started in June last year with Operation TOR SHEZADA (Black Prince) which successfully cleared insurgents from Sayedabad and prevented them from being able to use the area as a base from which to launch attacks against UK and Afghan forces as well as locals.
Over recent weeks up to 500 British and Afghan troops at a time were involved with 22 enemy attacks on checkpoints, 22 improvised explosive device finds and 113 fire fights.
The push continues the relentless military pressure being applied by UK and Afghan forces, working as part of ISAF, to the insurgency this winter, during which hard fighting against a stubborn resistance has taken place.
District Governor of Nad 'Ali, Habibullah Shamalani, said:
We have worked together to offer the people an opportunity to move away from violence and conflict. We are demonstrating to our people that the Government is listening and helping them.
The success of Operation TOR ZHEMAY 3 is also a huge confidence boost for the Afghan National Army (ANA) soldiers who played a key role, alongside members of 1st Battalion The Royal Irish Regiment (1 R IRISH).
The Commanding Officer of 1st Battalion The Royal Irish Regiment, Lieutenant Colonel Colin Weir, said:
When we arrived in this part of Nad 'Ali, we controlled only the ground we stood on. Now, alongside the ANA, we dominate the battlespace and the area around Sayedabad belongs unquestionably to the Government of Afghanistan.
As soldiers from 1 R IRISH fought to extend the security 'bubble', troops from the Royal Engineers worked to build five new checkpoints and collapse four old ones in less populated areas. Their materials and equipment were brought in to the hostile zones by road and by helicopter as underslung loads.
To support the building effort - and to enable freedom of movement for the other troops and locals - major road-building works were required as the fight went on and a new permanent bridge, capable of carrying heavy lorries and armoured vehicles, was constructed.
In total, 614 lorries carrying aggregate for roads were brought in on fragile routes which required constant upgrade to cope with the level of traffic.
Officer Commanding 51 Parachute Squadron, Royal Engineers, Major Matt Lambert, said:
It has been very hard work, but, operating within the security bubble created by the Royal Irish troops, our lads managed to keep working throughout. They have produced some magnificent results of which they are rightly proud.
Operation TOR ZHEMAY 3 has been a long-term effort and the groundwork began last year with a series of joint Royal Irish and Afghan National Army patrols into the main population areas, winning support from the local population by explaining their aims and offering aid to the local people, such as winter coats and boots.
Published 3 February 2011