News story
British WWII veterans receive highest French honour
Three British World War Two veterans were presented with the Légion d'Honneur, the highest decoration in France, by French President, Nicolas Sarkozy, during a state visit to the UK on Friday 18 June 2010.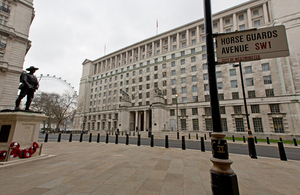 (Private) Walter Freegard OBE, from Middlesbrough, (Lance Corporal) Glynne Medlicott, from Shrewsbury, and (Sergeant) Alex Sutton, originally from Liverpool, received their medals from the French President at the Royal Hospital Chelsea.
All three participated in the Operation Dragoon landings in Provence in August 1944 to liberate southern France.
The President of the French Republic and Madame Sarkozy were visiting London to celebrate the 70th anniversary of General Charles de Gaulle's radio broadcast to the French population, appealing for them to resist the German occupation of France, during World War II.
President Sarkozy was accompanied by 350 of his finest military troops who joined their British military counterparts on parade to commemorate the anniversary of General de Gaulle's broadcast to the 'Free French' from London on 18 June 1940.
Accompanied by His Royal Highness The Prince of Wales, the French President laid wreaths at the statues of King George VI and General de Gaulle in Carlton Gardens, accompanied by detachments of the Royal Navy, the French Navy, the Royal Air Force, the Queen's Colour Squadron, and the French Army.
Musical support was provided by a trumpeter from the French Army, a Royal Marines Bugler and the Central Band of the Royal Air Force.
The French President subsequently attended a parade at the Royal Hospital Chelsea, where the South Grounds of the hospital were lined by detachments of the Household Cavalry Mounted Regiment and La Garde Republicaine, with whom the former have a formal bond of friendship.
On arrival at the South Terrace he was met by the British Prime Minister who introduced him to the Governor of the Royal Hospital Chelsea, General The Lord Walker, and Major General William Cubitt, General Oficer Commanding London District and Major General Commanding the Household Division. Major General Cubitt escorted the President to the Saluting Point.
There was then a flypast over the parade by a Spitfire from the RAF's Battle of Britain Memorial Flight, an RAF Typhoon and a French Air Force Rafale aircraft in vic formation, with the Spitfire leading.
The French President then moved to the Figure Court and presented the Legion d'Honneur to the three UK veterans of World War II.
(Sergeant) Alex Sutton, 86, said:
It was a very high honour, not only to receive the award but also to meet and shake hands with President Sarkozy.
The Legion d'Honneur or Ordre National de la Legion d'Honneur is a French Order established by Napoleon Bonaparte, and is the highest decoration in France.
The medal presentation was followed by a reading of General de Gaulle's original speech, and speeches by the Prime Minister, David Cameron, and President Nicolas Sarkozy. The President then met veterans and guests before departing for lunch at Number 10.
Published 21 June 2010