World news story
British WW2 veterans at the Croatian island of Vis
British WW2 veterans return to the Croatian island of Vis to commemorate their fallen comrades.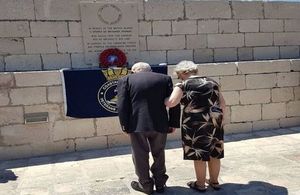 Two British Second World War veterans have returned to the Croatian island of Vis - as they do every year - to remember their fallen comrades.
Reg Ellis (92) and Peter Bickmore (93) are some of the last survivors of an Allied Combined Garnison of Royal Navy, Commandos and RAF personnel first stationed here in 1944. At the time, the island was one of the most important outposts of the Adriatic WWII campaign.
The British veterans have been returning annually to Vis for more than 30 years. Remembrance service was conducted at the British cemetery on Vis, the RAF memorial, the Freedom Fighters memorial and the Coastal Forces memorial on the jetty at Komiža.
UK Ambassador to Croatia Andrew Dalgleish joined the veterans for the commemoration.
We will always remember the British soldiers who died here.
Published 1 June 2017