British wounded warriors return victorious
The trip was supported and funded by the UK charity Help for Heroes and culminated in the team meeting His Royal Highness Prince Harry, who …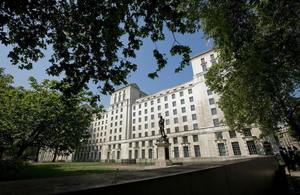 The trip was supported and funded by the UK charity Help for Heroes and culminated in the team meeting His Royal Highness Prince Harry, who is himself a Captain in the Army, at the British Ambassador's residence in Washington.
The Warrior Games, an annual event hosted by the US Olympic Committee, saw wounded, injured and sick Service personnel and veterans competing in seven paralympic sporting events in Colorado from 30 April to 5 May.
The UK squad of 21 competed in five sports - archery, cycling, swimming, track and field, and sitting volleyball, with Captain Simon Maxwell picking up gold in the men's 1500 metres track, Leading Hand Mickaela Richards taking a bronze in the women's 200 metres track, and the sitting volleyball team taking bronze.
A particular highlight of the week was Private Pa Njie receiving a standing ovation for completing the 1500 metres; the furthest he has run non-stop since sustaining his injuries.
Captain David Henson was thrilled to win double gold in the pool. He said:
After injury you can get a bit depressed initially, and there are times it is difficult to see how you can get back into the things you loved.

But although you might be doing them a little bit differently, the same buzz you got from sport before is there and it makes you realise things are going to be all right. Help for Heroes makes that possible.
Defence Secretary Philip Hammond said:
I congratulate the UK's team on their success at the Warrior Games. This should be a great personal achievement for all those on the team and the rest of the nation. I am particularly proud as it is the first time we have been invited to participate in the Warrior Games.

I hope the team have the chance to build on their tremendous achievements next year. Our injured personnel deserve all the support we can give them.
The Chief of the Defence Staff, General Sir David Richards, said:
It is great to see the UK team arrive home following a successful Warrior Games in the United States.
Sport is a terrific way to provide rehabilitation after injury and is also a wonderful way of fostering camaraderie among the Armed Forces of both countries.

I am very proud to see them return home and delighted to hear of their sporting endeavours in Colorado.
Athletes from across the Armed Forces, as well as staff from Personnel Recovery Centres and the Defence Medical Rehabilitation Centre at Headley Court, were amongst those who flew out to the United States.
The team arrive back on the same day that the latest Personnel Recovery Centre is officially opened in Colchester. The new centre will provide first class facilities for wounded, injured and sick Service personnel, including training facilities, classrooms, and gymnasiums with state-of-the-art sports equipment.
Published 8 May 2012