World news story
British-Uzbek project on the Great Silk Road
Her Majesty's Ambassador George Edgar attended an international conference entitled 'Continuity and Modernity on the Great Silk Road'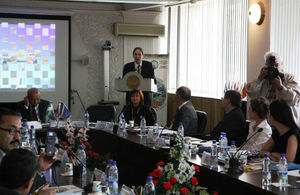 The conference was organised by the Tashkent Oriental Studies Institute, the Cambridge Central Asia Forum and the British Council. More than a hundred researchers from Uzbekistan, the UK, China, Korea, India, Russia and Kazakhstan took part in the forum to discuss historical, political and economic aspects of the transport and cultural corridors that make up the Great Silk Road.
In his welcome speech at the opening ceremony of the conference, HM Ambassador noted recent developments in the scientific and research relations between the UK and Uzbekistan, referring to the strong relationships between higher education institutions in the UK and Uzbekistan, including between the London Metropolitan University and the University of World Economy and Diplomacy in Tashkent, the University of Bath and the Tashkent State University of Economics, the University of East Anglia and the Uzbek State World Languages University. HM Ambassador said that the conference was an example of excellent collaboration between the Oriental Institute and the University of Cambridge. The conference is part of an ambitious project designed to develop Masters level courses on the Great Silk Road; to carry out multidisciplinary research, which includes historical, economic and geopolitical analysis of the origin of the Great Silk Road, its development and transformation; and to develop proposals and recommendations, based on the results of this research.
HM Ambassador touched on issues of cooperation in the region, noting that President Karimov had identified relations with Uzbekistan's neighbours as the country's top foreign policy priority. He emphasised the importance of cooperation on border, water and energy issues, and of developing and diversifying transport routes, as well strengthening bilateral trade and economic links between neighbouring states. He mentioned the positive role Uzbekistan is playing in Afghanistan's stabilisation, implementing infrastructure projects and supplying electricity. He said that the further strengthening of economic and trade links between neighbouring states and with nations outside the region would help Central Asia's further integration into the global economy.
HM Ambassador expressed hope that the conference would contribute to greater understanding of the current political and economic process in the countries of the Great Silk Road and that there would be practical discussion on the strategy for their future regional development and integration.
Published 27 March 2013