British troops teach animal care in Helmand
The Argyll and Sutherland Highlanders, 5th Battalion The Royal Regiment of Scotland (5 SCOTS), are the latest soldiers to help Captain Joanna Lowe of the Royal Army Veterinary Corps improve Afghan farmers' livelihoods.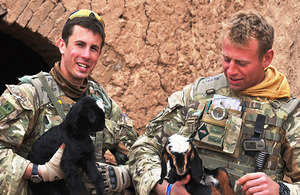 The 'Veterinary Teaching Initiative' was organised by troops from Delta Company of Canterbury-based 5 SCOTS.
Led by Captain Lowe, the event took place at the headquarters of the 2nd Kandak of the Afghan National Police (ANP), beside Delta Company's home, Patrol Base Attal, east of Helmand's provincial capital Lashkar Gah.
Captain Lowe spent time educating local nationals on better ways to carry out animal husbandry in an initiative that proved to be very popular; approximately 60 people attended on the first day and more than 100 on the second.
Captain Lowe said:
The aim of these two days was to educate the local people on modern methods of animal husbandry practices and medical care. This knowledge will help to make them more self-reliant and also help to improve their livelihoods.
The event, the first of its nature carried out by Delta Company during their seven-month tour of Helmand, was considered a real success.
In addition, Captain Lowe and local ANP commander Colonel Abdul Sattar Noorzai, who also played a key role in setting up the event, spoke on Radio Nahr-e Saraj, which transmits from Patrol Base Attal, on both evenings of the project, fielding veterinary questions from local farmers who telephoned into the station.
Colonel Noorzai said:
This kind of education is very important for improving life for the people. I have emphasised how beneficial this is on the local radio station so future events will see even more people attend.
Captain Niall Archibald of 5 SCOTS added:
The Veterinary Teaching Initiative is one of many different projects being run as part of Afghan Government and ISAF (International Security Assistance Force) efforts to increase the self-sufficiency of Afghanistan's population. The future of the country lies in the hands of its people, and initiatives such as this provide the tools to help build it up.
Delta Company are partnered with the Afghan National Police, protecting the people of Lashkar Gah district and ensuring that they have a responsible and accountable police force.
They also assist the ANP in gathering information on insurgents in the area and conduct operations to ensure that the insurgents are unable to impact on the daily life of the people.
Captain Lowe has been in Afghanistan for the last few months working with the Helmand Provincial Reconstruction Team as the civil-military co-operation vet liaison officer. In this role she has run a number of veterinary engagement clinics across the province.
Published 9 March 2011