World news story
British troops take part in Exercise PLATINUM LION 16-4 in Bulgaria
UK Defence Attaché Captain Richard Blackwell RN travels to Novo Selo for NATO exercise PLATINUM LION 16-4.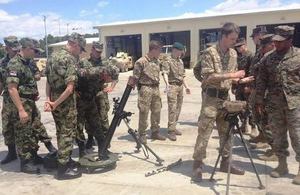 On 11 July 2016, UK Defence Attaché to Bulgaria, Captain Richard Blackwell RN, took the opportunity to visit British Royal Marines at the Novo Selo Training Area during their participation in the military exercise PLATINUM LION 16-4. This is a multinational exercise headed by the United States Marine Corps (USMC) that involves elements from Bulgarian, British, Romanian, Serbian and Slovenian Armed Forces, and is taking place 6-18 July 2016.
The UK contribution is an infantry platoon from 42 Commando Royal Marines. This is the third year that the Royal Marines have supported the US Marine Corps-led Black Sea Rotation Force (BSRF) annual exercise in Novo Selo (2014, 2015, 2016). Such participation by British troops demonstrates that the UK is at the forefront of Allied efforts to meet the challenges facing the Alliance head-on, with the UK's defence budget being the second largest in NATO after the US and with a commitment to maintain defence spending at 2% of GDP.
Captain Richard Blackwell RN said:
Bulgaria is an important Ally and we value our relationship, both as NATO Allies and on a bilateral basis.
The participation of British military personnel in Ex PLATINUM LION 16-4 is part of the UK's contribution to the NATO Readiness Action Plan (RAP) which was first agreed at the Wales NATO Summit in 2014 and re-endorsed at last week's NATO Summit in Warsaw. This follows on from UK participation in similar exercises over recent years and the visit to Burgas in Autumn 2015 of the major British warship HMS Duncan.
Such assurance measures demonstrate NATO's collective solidarity and its efforts to ensure security and stability in the Black Sea region.
Published 13 July 2016