World news story
British troops take part in Exercise PLATINUM LION 15-3 in Bulgaria
Ambassador Emma Hopkins OBE and the UK Defence Attaché Captain Richard Blackwell RN attended the Distinguished Visitors' Day of a NATO multinational exercise in Novo Selo.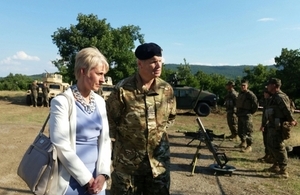 The British Ambassador to Bulgaria Emma Hopkins OBE and the UK Defence Attaché Captain Richard Blackwell RN visited the Distinguished Visitors' Day of the military exercise PLATINUM LION 15-3 on 15 July 2015 at the Novo Selo Training Area.
PLATINUM LION 15-3 is a multinational exercise headed by the United States Marine Corps (USMC) that involves elements from the British, Bulgarian, Romanian and Albanian Armed Forces. It takes place in Novo Selo from 6-17 July 2015. UK has contributed a close combat rifle troop from Charlie Company 40 Commando Royal Marines. This is the second year that the Royal Marines have supported the Black Sea Rotation Force (BSRF) annual exercise in Novo Selo (2014 and 2015).
Ambassador Emma Hopkins OBE said:
Bulgaria is an important Ally and we value our relationship, both as NATO Allies and on a bilateral basis.

This is clearly a time of strategic competition for all NATO Allies, as the world today is becoming a more dangerous and a more unstable place. The UK is at the forefront of Allied efforts to meet these challenges head-on. That has been reconfirmed by the decision of our Government to spend 2% from our national income on defence in the next five years – a spending target that had been set at the NATO Summit in Wales.
As the Defence Secretary made it clear at the recent NATO Defence Ministerial, the UK's commitment to NATO is significant and enduring. Our commitments are many and varied. We have Royal Air Force Typhoons conducting Baltic Air Policing duties and we will have 4,000 troops exercising with Eastern Allies during 2015. This also includes the Royal Marines taking part today in Exercise PLATINUM LION here in Bulgaria.
Exercise PLATINUM LION is an important means by which NATO can exercise its response to the many challenges the NATO allies face together. It contributes to the NATO Readiness Action Plan which put in place a range of actions to improve NATO readiness and responsiveness. The UK remains at the forefront of these developments including NATO's new "spearhead" brigade, the Very High Readiness Joint Task Force, which the UK will lead in 2017.
The UK contribution to NATO's Assurance Measures, including Ex PLATINUM LION 15-3, is also coherent with NATO's Connected Forces Initiative which aims to improve coordination between NATO nations and partners through expanded education and training, increased exercises and better use of technology.
Published 16 July 2015