British troops in Afghanistan celebrate Royal Wedding
Parties were thrown by British troops serving in Afghanistan this weekend to celebrate the wedding of Prince William and Kate Middleton.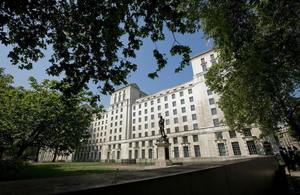 Soldiers from 3rd Battalion The Mercian Regiment (3 MERCIAN) hosted a barbecue at their base, Camp Tombstone, within Camp Bastion, inviting along members of the Afghan National Army who they are mentoring, as well as their American and Danish colleagues.
They watched the wedding coverage on two widescreen televisions while tucking into steaks and drinking non-alcoholic beer.
Lieutenant Colonel Giles Woodhouse, Commanding Officer of 3 MERCIAN, said:
We might be on operations, but this is a momentous event for the UK, and we deserve to be a part of the celebration.
3 MERCIAN have just started a six-month tour of Afghanistan, serving as part of the Brigade Advisory Group, which works alongside members of the Afghan National Army:
Our entire business is about partnering our Afghan colleagues. We're in this together," said Lt Col Woodhouse. "This country had its own monarchy once, so they all understand the important link between the Armed Forces and the Royal Family.
Servicemen and women at Camp Bastion's hospital watched the ceremony on television while eating fresh cream cakes, ahead of an evening barbecue.
At the headquarters of Task Force Helmand in Lashkar Gah, where 3 Commando Brigade's HQ is located along with more than a thousand personnel, troops on a break from their work were able to catch a glimpse of the bride and groom on a large TV that was sheltered from the blazing Helmand sun by a sea of Union Jacks.
There may not have been a wedding breakfast but the chefs at the base prepared a special cake to mark the marriage, which was washed down with non-alcoholic champagne.
Personnel at smaller, more remote forward operating bases, patrol bases and checkpoints also marked the day, gathering around laptops or radios to witness the momentous occasion.
Commander of Task Force Helmand, Brigadier Ed Davis, said:
All of us in Task Force Helmand wish Prince William and Kate the best of luck for their wedding day. While it is very much their day, we have been looking forward to it with great anticipation and pride.
Occasions such as this help lift morale, no matter what hardships the men and women of the Task Force have to endure.
Published 1 May 2011