British troops help rejuvenate Helmand town
British troops are helping with the rejuvenation of the once-thriving Helmand town of Chah-e Anjir by creating a secure environment and now providing a practical boost to the economy.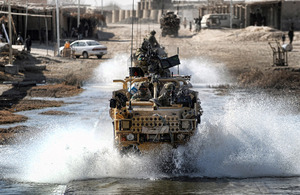 In a visit to the town, British officers from Helmand's Military Stabilisation Support Team (MSST) found that recently-launched projects aimed at restoring prosperity have been enthusiastically welcomed by local people and have already brought positive effects.
The economy is improving after the town in northern Nad 'Ali was made considerably safer by British and Afghan troops. Indeed a new Afghan police station was opened there earlier this week. See Related News.
Chah-e Anjir has a proud industrial history and was once home to the Helmand Canal Company, which employed thousands of people. Taliban intimidation and other security problems took their toll on industry over the years, leading to deterioration and financial struggle for those left without work.
Efforts to tackle insurgent activity and maintain peace and security in the town are led by the Afghan National Police and Afghan National Army, supported by British troops from 3rd Battalion The Parachute Regiment (3 PARA). This has created the space for work aimed at bringing about social and economic development to take place.
Amongst the projects underway is a motorcycle maintenance training programme for local men at a local business with a small workshop and forecourt.
The MSST and members of 3 PARA visited to find 15 employees enthusiastically working on customers' bikes, even struggling to keep up with demand.
Lieutenant David Donnelly, 3 PARA spokesman, said:
Since 3 PARA arrived here in late summer, this town has been developing in many ways. It still has a long way to go before it is back to the prosperous high-point of its past, but things are definitely moving in the right direction and there is an optimistic air amongst its people.
Bringing about a stable security situation is one thing, but what we're seeing here in Chah-e Anjir is one step beyond that - a place where improved security has enabled real social and economic development to happen and where business and industry is getting back up on its feet. This is how the Taliban will be defeated in the long term.
Another project visited by 3 PARA was a vocational training initiative focused on sewing and making clothes, where a team of 20 women are employed.
Again, demand is such that the operation is looking to train up new recruits and will soon require larger premises.
Not only do these enterprises employ local people directly but they also provide services to the area, generating a positive knock-on effect for other businesses.
Published 20 January 2011