British troops help Afghan farmers abandon poppy for wheat
Over two days, the Afghan National Police (ANP), supported by British troops from The Royal Highland Fusiliers, 2nd Battalion The Royal Regiment…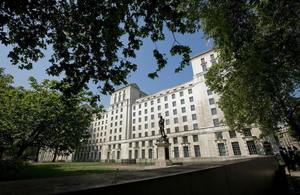 Over two days, the Afghan National Police (ANP), supported by British troops from The Royal Highland Fusiliers, 2nd Battalion The Royal Regiment of Scotland (2 SCOTS), distributed hundreds of sacks of seed and fertiliser to locals at reduced prices.
The programme has been planned and directed by the ANP, with British and other ISAF forces on hand to provide advice and assistance. In common with other operations, this has shown the ANP to be growing in confidence and competence as they reap the benefits of their training.
Policing and security responsibilities are increasingly being handed over to the Afghan National Police and Afghan National Army as ISAF moves progressively towards a training and oversight role.
The wheat seed distribution scheme is intended to contribute to the economy of Afghanistan whilst also providing local people with protection and a police presence.
The scheme also provides an opportunity for young men from the area to join the ANP, or find out more about the career options available, as the officers pass through.
The Afghan farmers won't be alone in feeling the benefits though. By giving them realistic alternatives to growing poppy, the supply of harmful narcotics which can eventually end up on the streets of Britain is cut, and the Taliban are denied crucial funds.
Mayor Daoud, the Mayor for the Lashkar Gah municipality, attended the distribution in Nahidullah in person to see how the people were benefiting. He said:
This wheat seed is important for the people as it gives them hope for the future. If they can grow wheat then they do not have to grow poppies and they also have the means to make bread to feed themselves. It also shows the people that the Government is behind them 100 per cent.
With more initiatives like this, the people will be able to lead better lives in the future.
Lieutenant Colonel Dougie Graham, Commanding Officer of 2 SCOTS, said:
This is proof that ISAF and the ANP are committed to helping the people of Afghanistan. Along with the Government of the Islamic Republic of Afghanistan, we are working together to provide the people of Afghanistan with the things that they need to improve their lives.

The insurgents do not offer wheat seed that the people can make into bread and feed themselves with, nor do they provide fertiliser to help the crops to grow. By providing the people with these things the Government is proving that they have the best interests of the people at heart.
Published 24 November 2010